Making 'Bill & Ted 3' Would Be A Totally Bogus Move, Dude…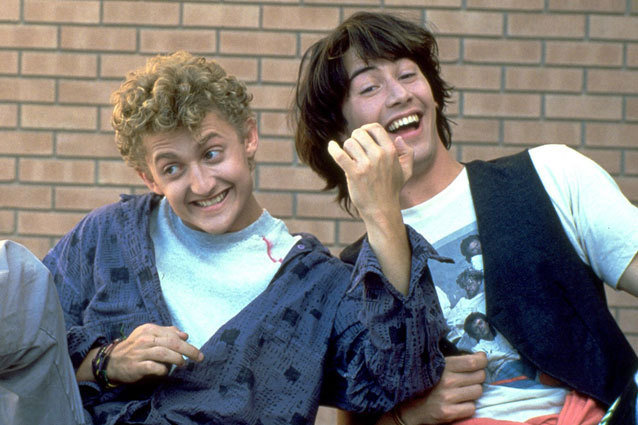 Orion
There are rumors that Keanu Reeves and Alex Winter may be reprising the roles that helped catapult one of them into stardom (hint, it's not Winter). Yep, they're considering doing Bill & Ted's Excellent Adventure 3. My only question is.. why? It would probably turn out to be a totally bogus movie. Oh yeah, that's right, people don't talk like that nowadays.
Reeves doesn't have anything to worry about by doing this – he's already financially set for life from the money from the Matrix movies and he probably still gets Speed residuals today. Winter, on the other hand, would probably be happy with getting some acting dough today. Still…why?
Time has moved on. It would likely be 2015 at the earliest when it could hit the theaters and the things that made the first two movies so much fun have become antiquated. Seriously, how many kids in 2015 would know what a telephone booth is? Sure, they could look it up on their smart phones, but that also kind of detracts from the experience. Having Bill and Ted go through time using a cell phone wouldn't be the same – those cheesy special effects were part of what made it fun.
Also, writing a story with them being older is going from their lives being really pathetic to being ultra pathetic, especially if their characters try to retain the same teenage goofiness. Seeing men in their 40s try to do air guitar riffs would be just a very, very, very sad sight. Reeves also probably couldn't pull off Ted's surfer hairstyle today.
A huge hit against this too: George Carlin, the man who played Rufus, is dead. He played a HUGE part in bringing the charm to the two previous Bill & Teds and trying to replace him with someone else would be a big, big risk that could blow up in their faces.
 I think we should be fine about not seeing Wyld Stallions in another concert. But we should continue to try to always be excellent to each other, dudes. 
More:
Leo DiCaprio For President!
Ah-nuld As The "Avatar 2' Villain: Does James Cameron Secretly Hate Him?
Breaking Bad Spin-offs We Want To See
---
From Our Partners:


40 Most Revealing See-Through Red Carpet Looks (Vh1)


15 Stars Share Secrets of their Sex Lives (Celebuzz)