Marvel Phase 3, Here We Come: 'Ant-Man' Crawling Into Theaters Early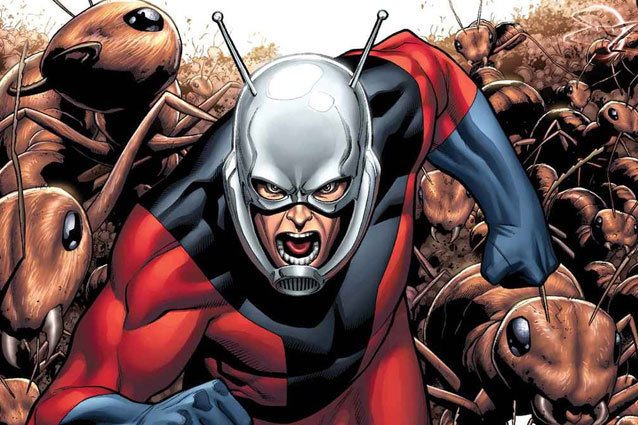 Marvel
Edgar Wright's Ant-Man has just been moved from a potential release date of November 2015 to July 31 of that year, just months after The Avengers 2: Age of Ultron and mere weeks after Warner Brothers' Batman Vs. Superman, making it a truly packed summer for superhero fans. But not only will Wright's film be hitting theaters sooner, it will also mark the transition into "Phase 3" of Marvel films – a slate of new characters that might include Marvel's first heroine and whatever mystery project Vin Diesel is working on (Groot spinoff?). While it will be sad to see old favorites go, Phase 3 seems like a shot in the arm for the audience and studio alike, and kicking it off in summer is a great sign. Perhaps they're so confident Ultron will impress that audiences' Marvel fever will lead them to a smaller film, boosting the box office from modest to huge. Or, maybe Disney thought fans might dig the scientific background to Ant-Man's story (he's a biochemist) what with Star Wars: Episode VII hype set to peak in the summer of 2015. Or, maybe they saw The World's End's respectable box office this summer, and decided another Wright flick was hardly a risk at all. 
While in the comics, Ant-Man created the Ultron system, Avengers director Joss Whedon has already explained he's writing a different origin for the villain for his Avengers sequel. But even if Ant-Man isn't responsible for the creation of Ultron, he and his wife, Wasp, were founding members of the Avengers… all leading to a stew of elements from the comics that could potentially be reworked so that, while we may lose Iron Man, Thor, and Captain America, we might not have to lose the team or the sense of fun that they bring through collaboration. 
Wright, who managed to bring the CGI-laden Scott Pilgrim Vs. World in at only a $60 million budget, is being given the reins on what now seems like a full fledged piece of the Marvel canon. It might sound risky, but Thor was a fantasy film with an unknown lead and unknown villian, both of whom are now bona fide stars and huge pieces of the Avengers. Ant Man seems to be following in those footsteps. Now all we have to do is wait for it… at least that wait is a couple months shorter now.
More:
Marvel's Phase 3: Hulk, Doctor Strange, 'Iron Man 4' and More on Tap
6 Female Superheroes Who Need Their Own Film
'Avengers 2' Makes Its Best Choice Yet: James Spader as Ultron
---
From Our Partners:


A Complete History Of Twerking (1993-2013) (Vh1)


15 Stars Share Secrets of their Sex Lives (Celebuzz)