'Men in Black' Director's Newest Project: 'Dinosaurs vs. Aliens' — TRAILER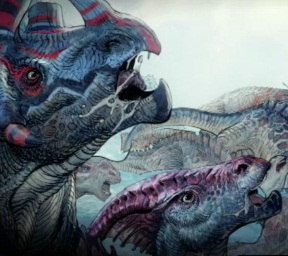 The extraterrestrial community is a contentious one. Over the course of the past decade alone, aliens have faced off with predators, monsters, ninjas, cowboys… and now, dinosaurs. Barry Sonnenfeld, who has dabbled in the otherworldly with his Men in Black movies, is launching Dinosaurs vs. Aliens,  a motion comics series via Yahoo! Screen depicting a reality in which aliens invade earth during the time of dinosaurs. Comic book legend Grant Morrison is writing the project, based on his own Dinosaurs vs. Aliens graphic novel conceived by Sonnenfeld.
Below is the first trailer for Sonnenfeld's and Grant's Dinosaurs vs. Aliens series, which will depict an epic battle for the dominion of earth between the prehistoric reptiles and the intergalactic travelers. While a motion comics Internet series doesn't quite seem in the scope of a blockbuster director like Sonnenfeld, this is just the first step in his longstanding journey to turn Dinosaurs vs. Aliens into a feature film. For quite some time, the filmmaker has been interested in transporting his brainchild to the big screen, and is getting closer to making this a reality.
Can a Dinosaurs vs. Aliens movie work? Could audiences really invest in a movie about two races that, as it stands, might not even speak? One of the faults of 2011's Cowboys vs. Aliens was the film's lack of a self-aware sense of humor. If there is one thing that Sonnenfeld's films definitely have, it's a sense of humor; and something like that is necessary when it comes to a concept as absurd as aliens fighting dinosaurs.
Check out the trailer below, head back to Yahoo to check out some interviews with the creators, and look out for the series, which launches on July 23.
More:
MindFood: Dinosaurs Versus Aliens
Comic-Con 2012: The Web's Most Anticipated SDCC Panels
'The Dark Knight Rises' Notes Stoke Possible John Blake/Batman Connection