Move Over, Arnold and Sly: Here's Our Dream All-Female 'Expendables' Cast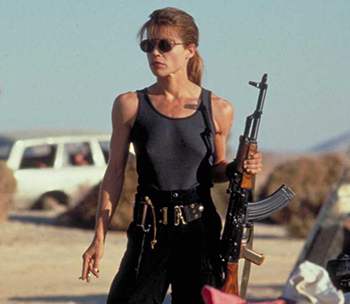 The concept for 2010's sensory overload The Expendables was simple: get every action star from the '80s, '90s, and '00s and put them all in a movie together and let them blow a bunch of s**t up. The formula paid off, as the all-star bonanza — which featured the likes of Sylvester Stallone, Jet Li, Dolph Lundgren, and Bruce Willis — earned nearly $275 million worldwide. 
So when it came to the inevitable sequel, the filmmakers applied the old adage, "If it's broke,
Jason Statham
probably destroyed it." Well, that and, "If it ain't broke, don't fix it."
The Expendables 2
, which hits theaters this Friday, is taking the same formula (and cast members) from the original and throwing in a few more action heroes, including
Arnold Schwarzenegger
,
Jean-Claude Van Damme
,
Liam Hemsworth
, and
Chuck Norris
. 
With both
Expendables
films having now compiled just about every male action star on the planet and
a possible third
with all the ones they missed this time around, we here at Hollywood.com think it's high time female action stars get their turn in the franchise. (Sorry, 
Charisma Carpenter
, we know you're there to represent!) 
From legendary action stars like
Sigourney Weaver
and
Linda Hamilton
(pictured, being totally awesome in
Terminator 2: Judgment Day
), to hot newcomers like
Gina Carano
, we see no reason why there can't be an all-female
Expendables
. Here are our picks for the lady
Expendables
. Hollywood, take note: these fearless, gun-toting, power-packed ladies know how to kick ass, take names, and would no doubt make for a big opening weekend. 
The Legends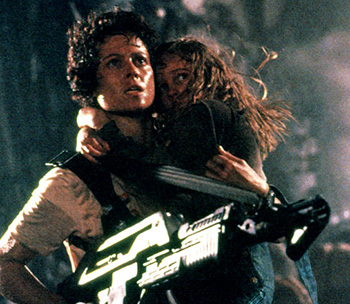 Sigourney Weaver:
 When it comes to the most knock-out, drag-down bad-ass female in movie history, there's no one comparable to Weaver's iconic Ripley. While there were plenty of powerful female action stars who came before her (think 
Tura Santana
 in 
Faster, Pussycat! Kill! Kill!
) Weaver has become the gold standard for tough movie heroines. In
The Expendables
world, she would be the seasoned vet of the bunch, like the Stallone or the Schwarzenegger of the crew, only with acting skills to boot. Weaver made the crowd go wild with just a cameo in 
The Cabin in the Woods
, so imagine an entire movie of her being awesome (and hopefully reviving her classic 
Aliens
 line "Get away from her, you bitch!").
Linda Hamilton: Like Weaver's Ripley, Hamilton's Sarah Connor is one fierce mama. Just how awesome was Hamilton in The Terminator and Terminator 2: Judgment Day? (Well, first, see photo above. If that isn't that very definition of female badassery, we don't know what it is.) She turned the genre on its head by turning the female lead from a damsel in distress to an all-out tough-as-nails action figure. 
Jane Fonda: Before she was kicking all of our asses on her workout tapes, Fonda was kicking intergalactic ass in the 1977 classic Barbarella. While it's been a little while since Fonda was in action heroine mode, she certainly hasn't forgotten what it's like to be a tough, take-no-prisoners lady in Hollywood. 
Pam Grier:
No one dared to mess with Grier in movies like
Coffy
(pictured below),
Foxy Brown
, and of course,
Jackie Brown
 — and they most certainly wouldn't now either.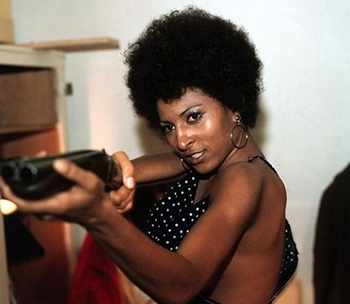 The Vets
Brigette Nielsen: Think of her as the Lady Lundgren: tall, blonde, and damn intimidating. Before she was Flava Flav's love interest (a superhero feat onto itself), Nielsen was a bona fide action star, working alongside the likes of Schwarzenegger (Red Sonja) and her ex-husband Stallone (Rocky IV, Cobra). 
Grace Jones: Jones would be a Lady Expendables double threat. Not only would she be able to harkon back to her action heroine days a la A View to Kill and Conan the Destroyer, but she could also provide the kick-ass soundtrack. 
Lucy Lawless: A lady Expendables movie without Xena? Ayiyiyiyiyiyiyi! We wouldn't stand for it. 
Michelle Yeoh
: No all-star action movie ensemble would be complete without a martial arts phenomenon. Yeoh has wowed audiences for years with her skills in flicks like
Super Cop
(pictured below),
Tomorrow Never Dies
, and the Oscar-winning masterpiece
Crouching Tiger, Hidden Dragon
. No one has ever made kicking ass look so graceful as Yeoh.
The Next Generation
Milla Jovovich: Jovovich has carried an entire action franchise (the Resident Evil films) for a decade, but at just 36 the model/actress still has plenty of on-screen butt-kicking years ahead of her. In addition to bringing iconic video super heroine Alice to life, Jovovich has one of the most memorable movie costumes of all-time with her bandaged duds in sci-fi favorite The Fifth Element. 
Carrie-Ann Moss: Same goes for Moss, actually. Not only does she have one of the most famous movie costumes of the 90s (who didn't dress like Trinity and Neo?) but she was the female face of the wildly successful Matrix franchise. Sure Keanu was the top-billed star, but Carrie-Ann was the one who had moviegoers saying, "Whoa!"
Gina Carano: 
The true rookie of the new generation of female action stars. Sure, Carano may be new to the big screen (she beat some of Hollywood's hottest guys, including 
Channing Tatum
 and 
Michael Fassbender
, to a pulp in 2012's action caper 
Haywire
) but she's been a full-fledged action star for years. The 30-year-old is a world champion mixed martial arts fighter and was once an American Gladiator. No stuntwoman necessary here, Carano, pictured here in a scene from
Haywire
, is the real deal.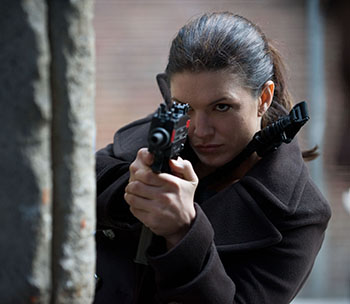 The Wildcard
Angelina Jolie
:
Every
Expendables
movie needs a cameo (for the sequel it's tennis great 
Novak Djokovic
) and who would be a bigger, better cameo than Angelina Jolie? The most famous woman in the world may be a beautiful, serious Oscar-winning actress (and mother and humanitarian and
Brad Pitt
's fiancee), but she's also a bona fide action star thanks to her roles in movies like
Salt
(pictured below),
Mr. & Mrs. Smith
,
Wanted
,
Beowulf
,
Gone in Sixty Seconds
, and
Lara Croft: Tomb Raider
. With a resume like that, it's amazing any paparazzi ever try to get in her way.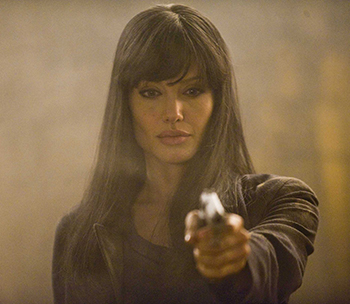 Would you see an Expendables movie with an all-female cast? Who would you want to see in it? Share your thoughts in the comments section!
[Photo Credits: Hamilton: TriStar Pictures; Weaver: 20th Century Fox; Grier: American International Pictures; Yeoh: Dimension Films; Carano: Lionsgate; Jolie: Relativity Media] 
More: