14 Subtle Movie References You Never Caught
We've already discussed Easter Eggs in movies and the many ways filmmakers create in-jokes and references for savvy viewers and those in the know, but today we're taking a look at filmmakers referencing other filmmakers (or their stars…or themselves). We bet you'll never watch these movies the same way again. 
Honoring Directors They Admire:
1. Star Wars in Star Trek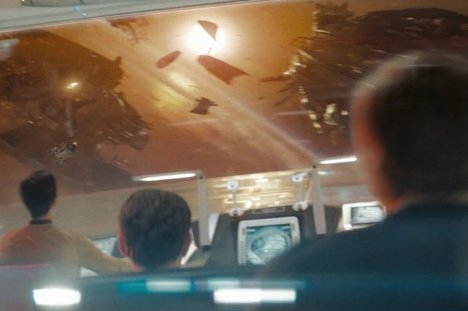 Paramount Pictures
It's no surprise that Super 8 director J. J. Abrams is a Star Wars fan, but we bet you never caught R2-D2's appearance in both Star Trek and Star Trek: Into Darkness. It looks like Star Wars: The Force Awakens won't be Abrams' first time with the Star Wars world.
Giving a Nod To Its Stars' Careers
2. Romy and Michele's High School Reunion's wink at Quentin Tarantino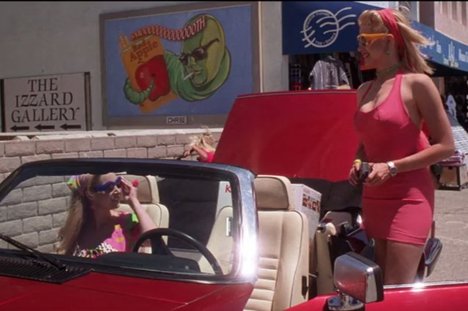 Buena Vista Pictures
The comedy has a few subtle references to Quentin Tarantino's film universe. At the time, Mira Sorvino (Romy) was dating Tarantino. Thus, the keen eye can discern a Big Kahuna Burger take-out bag behind Michele's head in the scene where they pig out and decide to emulate top female executives. In one of the next scenes, an ad for Red Apple Cigarettes can be seen behind their car. Both of these brands were made up by Tarantino for his films. Red Apple cigarettes can be seen in films like Pulp Fiction, Kill Bill, Four Rooms, and From Dusk Til Dawn. 
3. Bruce Willis' Favorite Song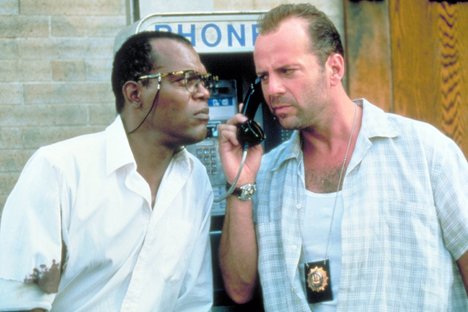 20th Century Fox via Everett Collection
Die Hard With A Vengeance has a Pulp Fiction reference in it! Who knew? Bruce Willis' Pulp Fiction character, Butch, is driving around while "Flowers on the Wall" by the Statley Brothers plays on his radio and he sings along before running into Marsellus Wallace. Die Hard's John McClane exits a cab in the 1995 film with Samuel L. Jackson and references his time suspended by reciting the same lyrics from Pulp Fiction: "I was working on a nice fat suspension. Smokin cigarettes and watching Captain Kangaroo." Willis starred in Pulp Fiction with Jackson between Die Hard 2 and Die Hard With A Vengeance. 
4. Fear and Loathing in Las Vegas with Rango
sodahead.com
The beginning of Rango features the Johnny Depp-voiced reptile landing on the windshield of a convertible driven by none other than Duke and Gonzo from Fear and Loathing in Las Vegas. Johnny Depp paying tribute to Johnny Depp. 
5. Adam Brody in Mr. & Mrs. Smith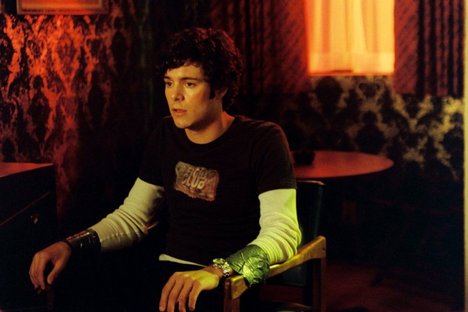 20th Century Fox via Everett Collection
Okay, maybe everyone just really loves Fight Club and Brad Pitt, right? In the 2005 rom-com action movie, Seth Cohen plays the man they're both assigned to kill, which is how they realize they're both spies. The whole time, Brody is wearing a Fight Club t-shirt. It's pretty obvious whose side he's on.
6. Fight Club Starring Brad Pitt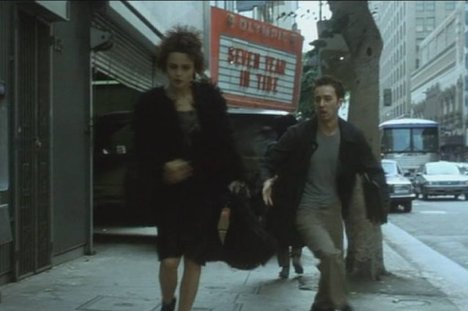 20 Century Fox
Fight Club has a bunch of hidden gems in it, including advertisements for its main stars. Theater marquees within the movie advertise films starring Brad Pitt (Seven Years In Tibet), Edward Norton (The People Vs. Larry Flynt), and even Helena Bonham Carter (The Wings of the Dove, although it's obscured by a bus in the scene, so this is questionable).  
Paying Homage To Themselves:
7. The Social Network's Tyler Durden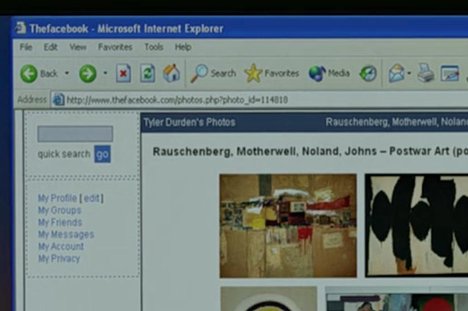 Columbia Pictures
Fight Club's director David Fincher has also been known to reference his own movies. In The Social Network, Jesse Eisenberg's Zuckerberg uses Facebook for help on an Art History assignment. The profile he's viewing? Tyler Durden's.
8. Charlie and The Chocolate Factory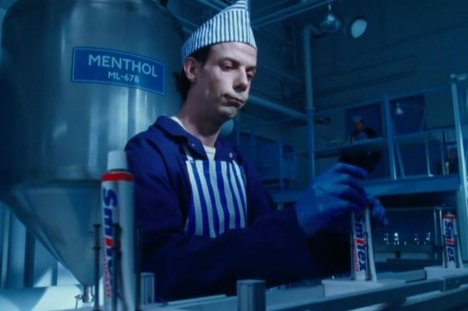 Warner Bros.
In the Tim Burton adaptation of Roald Dahl's classic, Charlie's father works for Smilex toothpaste factory; this is a reference to the poison Joker unleashed on Gotham in the Burton-directed Batman by hiding it in their toothpaste. During a tour of the factory, Wonka walks by a room of pink sheep as he says, "I'd rather not talk about this one." While this may just seem like a way to accentuate his eccentricity, Burton's actually referencing his Ed Wood biopic, also starring Johnny Depp; director Ed Wood was a notorious cross-dresser with an affinity for pink wool. In other scenes throughout the movie, children in the Halloween flashback wear masks of Lock, Shock, and Barrel from The Nightmare Before Christmas and a door in the factory is marked "BeetleJuicing."
9. Before Sunrise/Waking Life/Dazed and Confused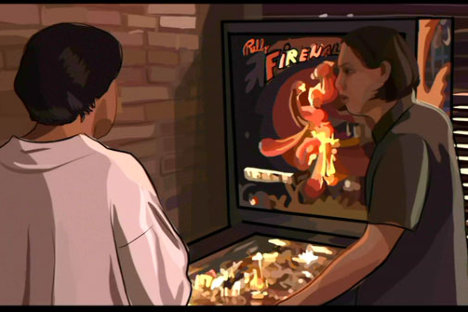 Fox Searchlight Pictures
Oscar-nominated writer-director Richard Linklater's film worlds seem to intersect at times. Like when Ethan Hawke and Julie Delpy reprise their characters Jesse and Celine from Before Sunrise in the rotoscope dream movie Waking Life, which they then reference in Before Sunset. But there are subtler ways in which the films inhabit the same world: pinball. The same pinball machine can be found in at least three of Linklater's films: Waking Life, Before Sunrise, and Dazed and Confused. 
10. Friends With Benefits picks up Easy A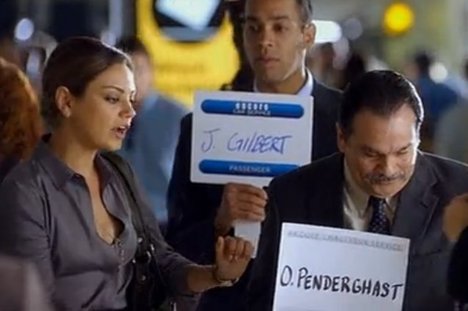 Screen Gems
Director Will Gluck references his 2010 hit comedy Easy A in the totally-okay-but-not-as-successful 2011 film Friends With Benefits. The sign at the airport for an "O. Penderghast" alludes to Emma Stone's character in Easy A. Stone appears in both films and is flawless in both. 
Paying Tribute To Other Directors:
11. Indiana Jones/Star Wars/E.T.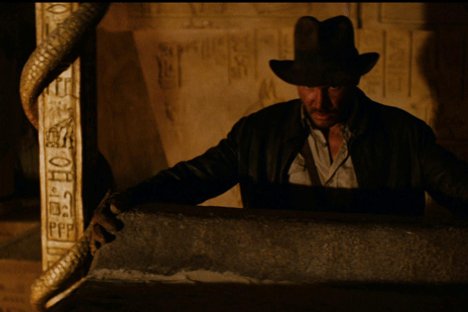 Paramount Pictures
R2-D2 makes another appearance – this time in Raiders of the Lost Ark. Spielberg paid tribute to Indiana Jones writer George Lucas by including hieroglyphics of the Star Wars droid in the 1981 film. Three years later, Spielberg did it again by naming a club in Indiana Jones and the Temple of Doom after Obi-Wan Kenobi. 

12. E.T. in Star Wars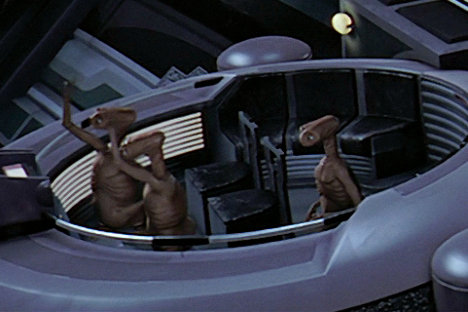 20th Century Fox
And then George Lucas thanks Steven Spielberg by featuring E.T. the Extra Terrestrial  in Star Wars: The Phantom Menace. 
13. Evil Dead 2/Nightmare on Elm Street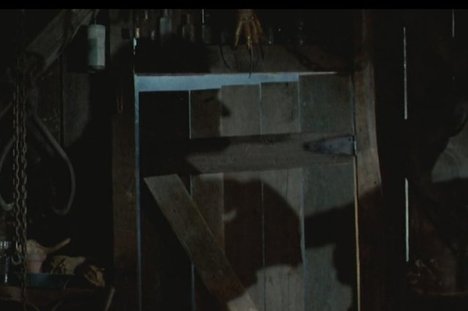 Paramount Pictures
Director Sam Raimi pays homage to Wes Craven in Evil Dead II: Dead by Dawn by sneaking iconic slasher Freddy Krueger's glove in the background of a few scenes. 
Paying Tribute To The Genre:
14. Scream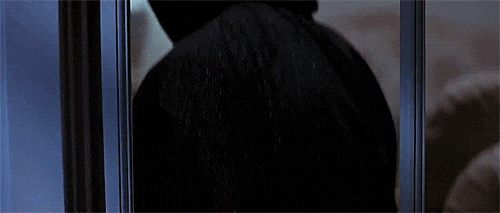 GIPHY/reddit.com
Scream is more jam-packed with references than most other movies. It's basically a two-hour homage to the horror genre entirely. The character Billy Loomis borrows his last name from Psycho's Sam Loomis before quoting Anthony Perkins as Norman Bates. The janitor outside Principal Himbry's office (played by director Wes Craven himself) is named Fred and wears Freddy Krueger's iconic striped shirt. The film is so saturated with in-jokes and references that it's pretty easy for even the most savvy viewers to miss Scream Queen Linda Blair's brief cameo. Take comfort in understanding the constant name-checking of other horror flicks.