New Twilight Saga: Eclipse Image
Summit Entertainment today debuted a new image from The Twilight Saga: Eclipse, the third chapter in the blockbuster teen vampire franchise. Without any context, it's hard to tell what's going on, but Robert Pattinson and Kristen Stewart seem quite happy in their own little L.L. Bean ad: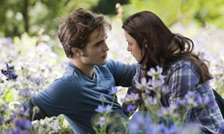 Well, at least Pattinson had the good sense to keep his shirt on this time.
Eclipse opens June 30, 2010.