New 'John Carter' Trailer Is a Sensory Explosion (with Aliens!)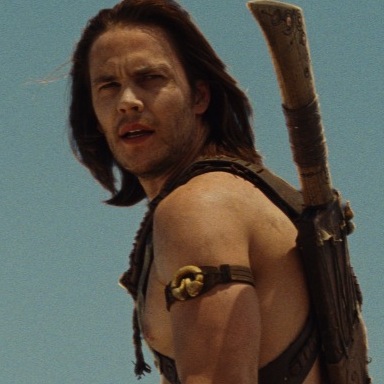 Earlier this week, Disney debuted the new poster for John Carter, their mega-budget sci-fi epic starring Taylor Kitsch of Friday Night Lights as a Civil War solider plopped into the middle of an Martian war. The image sent me off on a bit of rant—the original John Carter stories from the early 20th century were rousing fantasy adventures, full of wild spectacle and imagination, but the one sheet (and the first teaser, for that matter) didn't evoke that potential scope. But director Andrew Stanton (Wall-E, Finding Nemo) is open about his love for these stories, this franchise, so out of blind faith, I continued to rah-rah for John Carter.
Now we see a second trailer, courtesy of IGN, that begins to quell my fears. While not perfect (I'm still up in the air about Kitsch as a powerful leader figure), the spot has the ridiculous spectrum of sci-fi whiz bang pow that I'd expect from a John Carter movie. Four-armed green aliens, white monkey beasts, Mark Strong with blue eyes, crazy airships and a funny little Martian dog—John Carter looks like Avatar in the 1800s. Dramatic? Not so sure. But it will look insane.
Check out the spot. Ridiculous fun or just plain ridiculous?
="font-style:>