New 'The Master' Trailer: A Study on Quiet Creepiness — VIDEO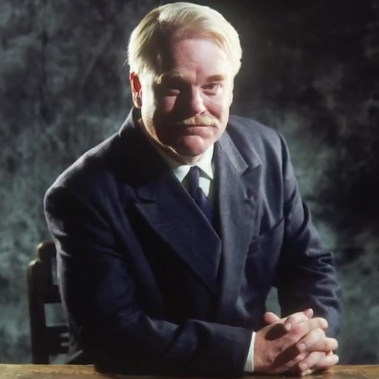 With footage like this, it's hard to believe that The Master won't be on everyone's lips come award time. Tonight Entertainment Tonight and Yahoo! debuted the theatrical trailer for Paul Thomas Anderson's newest endeavor, and, well: it looks truly riveting. All three of the starring actors (Joaquin Phoenix, Phillip Seymour Hoffman, and Amy Adams), are highlighted this go around and show-off their deft acting abilities.
Hoffman as the religious leader known as "the Master" (with an amazingly well-crafted name of Lancaster Dodd) comes across as a devilishly charismatic man that people would want to impress and serve. He endears himself to his followers with both his intelligence and calculated quips, such as the line "but above all, I'm a man; just like you" he speaks to Phoenix early on in the trailer. Quietly creepy and largely effective for the role.
Not to be outdone, though, is Phoenix's masterful (pun completely intended) turn as a man lost, and then found, and then lost again in the cult-like religion that Dodd heads up. In the trailer below, you really see how broken a man Freddie Sutton (Phoenix) is: unsettled, a raw nerve looking for relief. Another surprise is the stoic and staid character of Adams' Mary Sue Dodd. Her calm is eerie and effective, and her quiet rage exhibited in small moments throughout the clip hint at a manipulative woman who may be pulling the strings behind the scenes. Her cool anger is fascinating and reminds viewers that Adams' acting prowess is not just for musicals and Muppets.
Set in the 1950s, the film feels solemn, but at the same time rife with psychological drama that only a movie about a cult can truly evoke. It has been previously speculated that the film's story is loosely-based on Scientology, and the film continues to show glimpses that mirror that of the oft-criticized group (it is widely known that Scientology has a large ship called Freewinds where L. Ron Hubbard lived and headquartered the organization. There he was surrounded by his most devoted followers who lived and worked on the ship. They are known as the Sea Org). As you can see, much of the happenings in the film seemingly also taking place aboard a ship. With so much attention on this film and its potential origins of inspiration, it seems fair that the buzz and interest in this movie will only amplify as we get closer to its release date. Looks like Mr. Anderson has another great film–and critical success–on his hands. Check out the trailer below and keep an eye out here for more information on The Master, which will have a limited release on October 12, 2012.
Follow Alicia on Twitter @alicialutes
More:
Philip Seymour Hoffman in 'The Master': Creepiest Performance of 2012?
Joaquin Phoenix Returns: Long-Awaited 'The Master' Looks Terrifying — TRAILER