NYFF: Our Reactions to the Very First Screening of Scorsese's 'Hugo'
In 49 years, The New York Film Festival has allowed only one other work-in-progress to grace it's prestigious screens: Disney's 1991 Best Picture nomination Beauty and the Beast. High standards, for sure.
That should tell you something about Hugo, an adaptation of the popular young adult novel The Invention of Hugo Cabret and the latest from legendary director Martin Scorsese. The movie was introduced to the world with a somewhat intriguing, mostly baffling trailer (it's about a kid…who runs around a train station…and does…kid…things), but when Scorsese stepped out reveal the festival's "secret screening" was in fact his kid-centric period piece, the crowd went wild. A full on, pre-show standing ovation—New York loves them some Scorsese.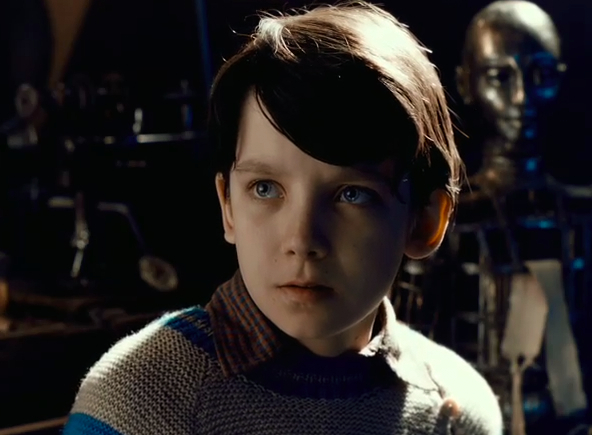 The festival made it very clear that Hugo was still waiting for its finishing touches, and that was obvious—the first moments of the film were filled in with pre-visualization animation (blocky 3D graphics used as placeholders for the special effects team), the score had yet to be recorded with a full orchestra and a few shots still had green screen in the background. Hugo is incomplete, so I wouldn't dare review it, but here's what I can tell you: I loved what I saw.
OK, I'll give you a bit more than that. Here are a few tidbits that made Hugo one I imagine will end up being (for me) one of the best mainstream films of the year:
After much heated debate over what constitutes a "kid's movie," I left Hugo feeling completely satisfied. It's not a kid's movie comparative to broad comedies or even fluffy thrill rides like the Narnia movies. Instead, Hugo tells its story from a child's perspective, following the young protagonist as he zips through the inner-workings of a train station, struggles to exist alone and find meaning and engages in new relationships. The script by John Logan (The Aviator, Rango) bounces from moment to moment the way you might expect a child to perceive the busy world around him—some might call it thin, but with Scorsese behind the wheel it was like stepping back to my earliest moments of discovery. The first time you saw a movie, the first time you experienced something dangerous, the first time you spent an afternoon reading books or playing with Legos. Not preying on nostalgia, but unearthing memories. To kid, I imagine this just feels relatable.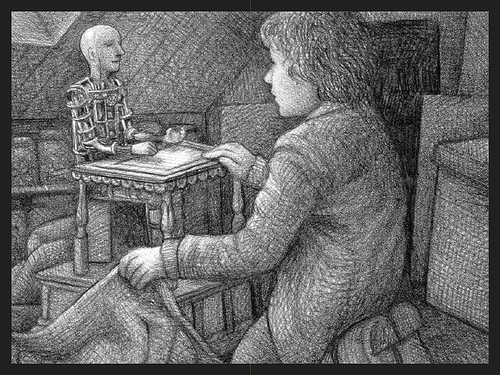 Brian Selznick's original book is a fusion of prose and pictures, a text full of black and white storybook sketches accompanied by sophisticated pre-teen language. The movie feels like an extension of that, but with bright colors, blooming lights and a vivid recreations of early 20th century Paris. The old fashioned thinking gives cinematographer Robert Richardson (who shot Scorsese's The Aviator and Shutter Island, along with the Kill Bill movies) a lot to play with here and play he does.
Maybe that's why the movies feels so refreshing and enchanting—Scorsese, a passionate film historian and preservationist, expels every ache he's ever had to use classic cinematic techniques. You can feel him pouring his heart and soul into the movie (for better or worse). With the story's direct connection to the films of the 1900s, Scorsese is given the freedom to tinker with old school techniques like stop-motion and over-the-top, silent comedy slapstick. Even composer Howard Shore (Lord of the Rings) turns back the clock for a score straight out of a Buster Keaton movie (to be fair, the music was a temp version not yet recorded by an orchestra—which I'm hoping means the end product will be even grander).
But even with the throwbacks, Hugo skillfully employs plenty of modern twists to keep from becoming one giant nod to the early days of cinema. Hands down, this might be the best 3D I've seen in the technique's recent revival. Yes, trumping even Avatar (two years later, lots of advancements!). Scorsese uses the stereoscopic imagery in order to emphasis every moment: he creates greater depth in the environments of the train station, draws our eyes to particular spots of the screen, even lands a few jokes thanks to Sacha Baron Cohen's particularly long nose. I found myself looking around foreground objects in Hugo—I think that's what James Cameron meant when he wanted to dimensionalize the screen.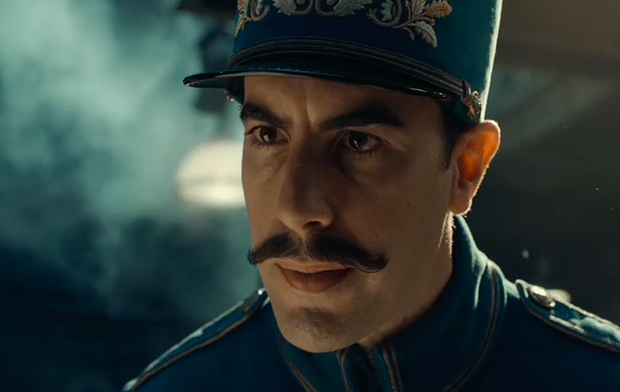 Obviously I was blown away by the technical achievements of this not-yet-completed film, but the most magical part of the movie is the lead performer: Asa Butterfield, a young actor I was not aware of before Hugo. So often it's difficult to find a child actor who isn't painfully aware he's in a movie. A kid who can just act like a kid. That's Butterfield—and his Hugo is complex and lost, wide-eyed when he's with the bright and cheery Isabelle (Chloe Moretz), sullen when witness to the despair of the maddening Georges (Ben Kinglsey). I thought he was really something special, and whether the end-of-the-year awards takes notice, he'll be an important part of connecting the history-based film (read: potentially dense for young ones) to the kids it's being sold to.
Hugo is magical, thanks to Scorsese's insistence to soak every frame in his love for cinema. The both a love letter to film and plea for people to take a gander at movies of yesteryear. Even with the movie's misgivings—in current form, the action becomes a little weighed down by its balancing act between Film 101 lecture and conventional character journey—but from moment one I was gripped by the movie's heart and soul. But that might be the problem—can everyone luxuriate in the otherworldliness of movie magic or do people need more from their own movie-going experience? Compared to a "kids movie" like Real Steel, Hugo is quiet, reserved and romantic—maybe not an eight-year-old's cup of tea, but certainly the movie that could sell a tween on the a lifetime of movie-watching.
I can't imagine much will change when Hugo hits theaters in November, but even with a few noticeable green screens it's one of the best films of the year. A joy to experience on the big screen.