One Direction 3D Movie in the Works with Morgan Spurlock as One Director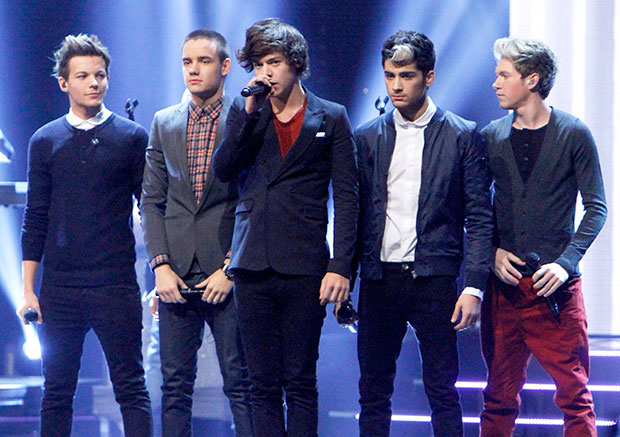 One Direction doesn't seem to be likely to fall from grace anytime soon. The band drew record-breaking ratings for The Today Show with their Rockefeller Plaza performance on Tuesday morning, has just released its second album Take Me Home, and has even earned a vigilant enough fanbase to receive live animals as gifts. The next step: movies! Sony Pictures has announced that One Direction will be the focus of a 3D film, directed by accomplished documentarian Morgan Spurlock.
You might know the filmmaker's name from one of the many big- and small-screen projects he has churned out over the past decade. Spurlock is most famous for his 2004 fast food takedown Super Size Me, and has since directed and produced films like Where in the World Is Osama bin Laden?, Freakonomics, and The Greatest Movie Ever Sold, which is his own personal statement on Hollywood's habitual product placement. He also created the Hulu series A Day In the Life.
The new One Direction movie, which is being produced by Simon Cowell (who discovered the band on the United Kingdom's The X Factor), will focus on band members Niall Horan, Zayn Malik, Liam Payne, Harry Styles, and Louis Tomlinson, and their achievements and personal journeys into the spotlight. Spurlock, a highly stimulating filmmaker, will likely provide an interesting take on the band's experiences with new fame and success, and perhaps on the industry itself.
The Hollywood Reporter's Borys Kytt reports that the film is set for release on Aug. 30, 2013.
[Photo Credit: Patrik Österberg/Wenn]
More:
One Direction to Love You Even Though You'll Never Love Yourself — VIDEO
Britney Spears, Demi Lovato, Simon Cowell, and One Direction on the 'X Factor' Twist!
One Direction Fans Attack Married Woman Over Harry Styles Affair Rumors
From Our Partners:

'Twilight' Red Carpet: Rob and Kristen's Awkward New Pics (Moviefone)

Ryan Gosling Birthday; 32 Reasons Why 'The Notebook' Kiss Is Greatest 
(Moviefone)