'Part of Me': Count Katy Perry's Crazy Costumes — VIDEO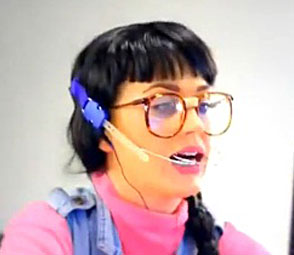 According to one of the speakers in the below clip from Katy Perry's forthcoming 3D concert movie Part of Me, the film (a biopic of sorts about Perry) touches on elements from classic stories like Alice in Wonderland and The Wizard of Oz. The magic of Perry's imagination is evident in her music, no doubt, but also in her wardrobe.
In the below clip, you can see Perry dressed as a wedding cake, a peacock, and some kind of multi-fan cooling apparatus.
Clearly, the film is reaching for all demographics: people getting married, ornithologists, and warm people. Which category do you fall into? And does Perry speak to your people effectively? Check out the clip below to find out!
More:
Katy Perry and Katy Perry Duet in 'Part of Me' — POSTER
Katy Perry Sings 'Wide Awake' at Billboard Awards