'Piranha 3DD' Star Katrina Bowden Talks Gross-Out Scenes and the David Hasselhoff Cameo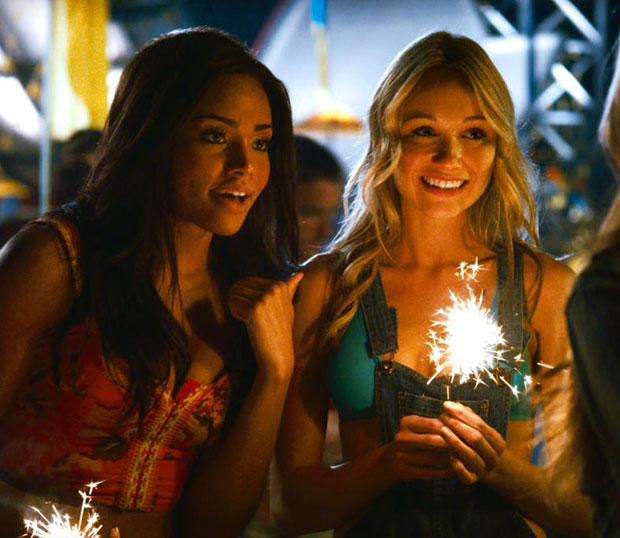 "I'm not very good at handling scary movies….It's the kind of stuff that usually makes my skin crawl." In that case, Katrina Bowden is in some serious trouble. The 22-year-old actress — best known to 30 Rock fans as Cerie, TGS' token hot girl/source of Lutz's unrepentant misery — stars in one of this summer's skin-crawliest movies, Piranha 3DD, the follow-up to 2010's campy horror comedy hit Piranha 3D.
In fact, it's horror-weary Bowden, who chatted with Hollywood.com about her work on Piranha 3DD, that endures one of the movie's most squirm-worthy moments. After her character Shelby takes a dip in her town's mutant piranha-infested waters she and her boyfriend Josh (Jean Luc-Bilodeau) learn the hard way that they didn't exactly escape the unforgiving chomp of the monsters.
While the two…get intimate, a piranha that has made a home gestating in — brace yourselves — Shelby's insides, makes its way out by clamping its razor-sharp teeth on Josh's, well, bait and tackle. Bowden admits, "My only thought when I read [the script] was, 'What am I getting myself in to?'"
But it wasn't simply the great piranha escape that psyched Bowden out for the scene. "For me, [love] scenes in general, are really difficult. [They] are really uncomfortable for everyone until it's over. So this one especially, there were a lot more elements to make it even more uncomfortable," she says. Still, Bowden (pictured with co-star Meagan Tandy) got through the shoot, which included "flesh colored underwear with a prosthetic piranha hanging off it…it looked so gross and realistic" and assures gross-out weary moviegoers, the scene in question is "the right amount of ridiculous."
"The right amount of ridiculous" is what Dimension Films is likely hoping draws in fans of the original Piranha and newcomers alike, especially thanks to the additions of David Hasselhoff and Gary Busey. While Bowden didn't get to work with either of the stars during the North Carolina shoot, she promises their outrageous cameos (Busey plays a fisherman who has an unfortunate run-in with the creatures and Hasselhoff plays himself, acting as a celebrity lifeguard at a waterpark) are entertaining.  "I was just excited to see what they did," Bowden tells Hollywood.com, "I have to say, David Hasslehoff is one of the funniest parts of the movie, he did a really good job poking fun at himself. He obviously had a blast doing it."
Just in case piranha births and self-aware Hasslehoff cameos weren't enough to up the over-the-top ante, there's still the 3D element. Bowden, who is appearing in another 3D feature this year (Nurse 3D, alongside Paz de la Huerta,) confirms Piranha 3DD makes the most of the technology in the most absurd ways imaginable. "[There's] a puke scene in it [that] was purely for 3D…… As crazy as the first one was, this one is crazier." Okay, we'll bite.
Piranha 3DD opens in theaters on June 1.
[Photo credit: Dimension Films]
More:
30 Rock Star Katrina Bowden Joins American Reunion