'Predators' Writers Taking On 'Masters Of The Universe'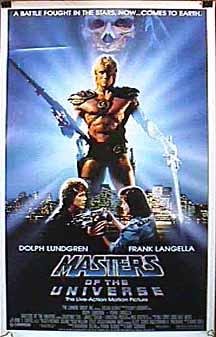 Source: The Hollywood Reporter
After penning the reboot/prequel to Fox's Predators, Alex Litvak and Mike Finch became sought after scribes for Hollywood's top projects. Now they've been tapped to re-work the developing He-Man reboot, tentatively titled Masters Of The Universe (once known as Grayskull when the production was at Warner Brothers.)
Columbia Pictures is now working hard at bringing the fantasy world of Eternia back to the big screen. Moviegoers have not visited the war-torn land since 1987, when Dolph Lundgren portrayed the muscled hero of the planet, He-Man.
The addition of the rising writers is the first major move on the property and signals the project is being rebuilt from the ground up. While at Warners, Masters went through several writers and in latter stages had John Stevenson, who co-directed Kung Fu Panda, attached to helm.
THR's Heat Vision Blog says that Finch and Litvak's pitch "attempted to balance a treatment that would convince the studio it was cinematic and keep the toy company satisfied that its characters were being portrayed appropriately."
Todd Black, Jason Blumenthal and Steve Tisch of Escape Artists are producing.