'Prometheus' Filmgoers to Get Early Look at 'Django Unchained'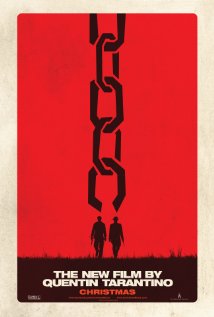 Quentin Tarantino recently released 10 minutes of footage during the Cannes Film Festival from his new Western, currently in production, Django Unchained. But on June 8 his troubled flick will reach a wider audience when the trailer is rumored to play before Ridley Scott's Prometheus, the eagerly anticipated prequel to his classic 1979 film Alien. Moviegoers will be treated to an early look at Tarantino's slave drama starring Jamie Foxx, Leonardo DiCaprio, and Samuel L. Jackson.
The film has been a casting carousel, and it looks as if the rotating roster is about to spin again. Reports are that Prometheus' own Michael Fassbender is in talks to land a role in the film. The actor has already appeared in a Tarantino film, playing a small, but instantly memorable part in the 2009 film, Inglourious Basterds. But as the movie is slated to be released on Christmas Day, they may need Santa's helpers to get it wrapped on time.