Ridley Scott Slams the MPAA Over 'Prometheus' Rating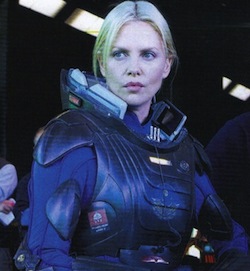 Harvey Weinstein isn't the only filmmaker who's fuming at the MPAA's seemingly arbitrary film ratings. Following a London screening of new footage from his sci-fi feature Prometheus on Tuesday, director Ridley Scott suggested he may be running into trouble with the ratings board.
Scott said he's hoping to get a rating "that allows it to make as much money as possible. I know the importance of that. When a big film fails, it's disastrous for all of us." He added, "films this year that have got PG-13 ratings – it's absolutely fucking ludicrous. So MPAA, get your house in order."
Last month in an interview with Empire, Scott suggested that he's toned down the violence in the film in an effort to score a PG-13. "The question is, do you go for the PG-13, [which] financially makes quite a difference, or do you go for what it should be, which is R? Essentially, it's kinda R," he said. "It's not just about the blood, it's about ideas that are very stressful. I'm not an idiot, but I'll do everything I can to get the most aggressive film I can."
Last week The Weinstein Co. managed to get the rating for the documentary Bully dropped from R to PG-13. It took weeks of battling behind the scenes and support from stars including Ellen DeGeneres, Meryl Streep, Johnny Depp, Justin Bieber, and Katy Perry to get the MPAA to reconsider its decision. In the end it turned out the difference between what's appropriate for a 13-year-old and a 17-year-old is three measly F-words. The Weinstein Co. made the minor cuts to the film (and released an unrated version), but it looks like Scott may be facing weeks of nitpicking with the MPAA over just how much alien blood and guts is acceptable for young audiences.
More:
'Bully' Drops to PG-13: Was This Always the Plan?
'Prometheus' Trailer Premiere is a Hit!