'Savages' Trailer: Blake Lively, Weed and Whole Lot of Violence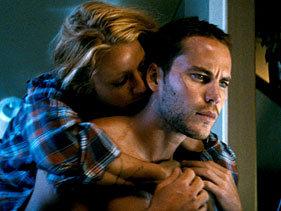 If you've ever seen director Oliver Stone's Natural Born Killers, The Doors or U Turn, you know the director is fully capable of injecting any type of narrative with vicious, psychedelic imagery and shocking violence. In recent years, he's turned to realistic, ripped-from-the-headlines dramas, like World Trade Center, W. and Wall Street 2. But now the filmmaker appears back to his kinetic style with Savages, a drug trade thriller for which Stone has assembled an all-star cast to go completely bonkers.
The first trailer for the film has been released and puts lead actress Blake Lively front and center. Lively plays O, the girlfriend of Chon and Ben (Taylor Kitsch and Aaron Johnson), two marijuana growers/dealers who end up on the bad side of a Mexican drug cartel. Soon, O finds herself kidnapped — but Chon and Ben don't bow to the muscle. They head south of the boarder, where they run into the likes of John Travolta, Benicio Del Toro, Salma Hayek and Oscar-nominee Demián Bichir.
The spot is stylish, sexy and slick, with a hefty amount of humor built around the terrifying central plot. Savages lands July 6, 2012 and should serve as a heady alternative to the usual summer blockbusters. Or, at the very least, a trippy alternative.
Find Matt Patches directly on Twitter @misterpatches and remember to follow @Hollywood_com!
More:
John Carter Taylor Kitsch Has 'The Scars to Prove' His Stunt Work
More Naked Pictures of 'Blake Lively' Surface
Oscars 2012: Making a Case for Demián Bichir in A Better Life
[MTV]