SDCC 2011: The Best of San Diego Comic-Con

All of the Con-fidence men and women who adorned the San Diego Convention Center over the weekend may be gone, but the buzz on everything they saw remains. If you were stuck in bathtubs filled with ice to beat the sweltering heatwave that gripped most of the country this weekend, here's some of the best stuff that you missed at the 41st Annual Comic-Con.
The Comic-Con Floor in Photos
Are you too lazy to read "Lights, Comics, Action?" Have no fear when Hollywood.com is here. Our esteemed staff roamed around the halls of the San Diego Convention Center snapping photos as they went. Try not salivate too much.
George R.R. Martin gets to moderate his own novel's panel
"Between you and me, Drogo would kick Conan's ass" – Jason Momoa; and he would know considering he played Drogo on the first season of the epic, Game of Thrones, and will be playing Conan the Barbarian this summer. This and much more were heard at HBO's Game of Thrones Panel.
Steven Speilberg, inspirer of geekdom,  attends his first Con
Certainly, one of the biggest highlights of Day Two was the arrival of Steven Spielberg; The Adventures of Tintin footage and Jurassic Park 4 news in tow.

Lost is over, but at least we have The Walking Dead to mystify us now
On Thursday, AMC revealed the Season 2 poster for The Walking Dead. If that didn't whet your appetites enough, at Friday's WD panel, fans got to see even more brain-eating fun, with a Season 2 trailer that got our blood pumping. It seems things are going to get a whole lot worse before they get better.
More over Potter, Bella's story is ending too
Twi-hards versus Potter fans is this generation's Star Trek vs. Star Wars debate. After this weekend's record-shattering debut of Harry Potter and the Deathly Hallows Part 2, it is abundantly clear that Twilight: Breaking Dawn, Parts 1 and 2 are going to have to be nothing short of amazing to keep this debate going. Here's what went down at the Breaking Dawn Press Conference. And for those of you who are still thirsty, we even covered the panel and the honeymoon footage.
I'm still not sold, but Spidey was at the Con too…
If you're like me, then you might agree with this week's Mindfood and have a few reservations about rebooting Spider-Man. However, Andrew Garfield and Emma Stone were on hand to show off some of the new Spidey's moves. No matter what side of the fence you fall on when it comes to rebooting a film franchise that's not even ten years old, we can be everyone will still cram themselves into theaters on America's birthday weekend for its release.
This weekend was as hot as a Vampire in the daylight, without the help of fairy blood….
I guess that's why the stars of HBO's True Blood were in the air-conditioned convention center, talking about their hot show, showing off footage of its in-progress fourth season and answering your questions. Oh, and they did a press conference too. Sorry ladies, the guys kept their shirts on.
As if fanboys need more of a reason to drool, Buffy is back
We all were waiting with baited breath for CW's new thriller, Ringer, starring Sarah Michelle Gellar in a geektastic dual role. Now the former vampire slayer is teasing that her former TV sister, Michelle Trachtenberg is angling for a guest spot on the show, as heard at the Ringer Panel. And for those of you who can't get enough of Mrs. Prinze Jr., there are photos too.

Okay I'm sold on The Avengers artwork, now it's time to assemble!
While there wasn't a full-fledged panel for The Avengers at the Con, that doesn't mean that Marvel's Mightiest Heroes weren't represented. Each new day of Comic-Con a new awesome concept art poster was released, each one more epic that the last. Yes, of course they go together to form a larger piece of artwork that will most assuredly be adorning comic store and movie theater walls all the way until next summer's big release.
He may not be a rebel anymore, but is Colin Farrell still a drunken Irishmen?
After becoming a quieter movie star, Colin Farrell began turning in understated roles (see: Crazy Heart, Ondine) that do a hell of a lot better job a showcasing his talents than any tabloided tirade could have done for him. The former brash actor came to the Con show off not one, but two geektastic films: the remake of Fright Night and the remake of Total Recall (which is looking more and more like Philip K. Dick's original source material than Aaahnaaald's adventures on Mars).
Beavis and Butthead are doing America…again
I'm still not quite sold on resurrecting Beavis and Butthead for a new generation of MTV fans who probably don't even know what music videos are. Then again I wasn't much of a fan of the show. The movie, however, still holds a stupid place in my heart (along with Bill, Ted, Wayne, Garth, Ren, and Stimpy). But for those of you who were fans, you can check out a preview of the show right here, while I continue holding out false hope of a live-action Powdered Toast Man movie, starring Patrick Warburton.
After Rise of The Planet of the Apes, are they finally going to change their name to 21st Century Fox?
Fox is known for bringing the geekery to Comic-Con and 2011 is no different. The upcoming Planet of the Apes prequel made an appearance, along with its motion-capture star, Andy Serkis (yes, he gave us a Hobbit update too), along with daring and exciting new films from Andrew Niccols (Gattaca), and the Alien prequel, Prometheus—all previewed at the 20th Century Fox Panel.
Awake is original and intriguing, but can it last on network TV?
Awake is an upcoming NBC procedural drama starring Jason Isaacs as a man who somehow lives in two realities, each with a different outcome of a car crash that he was involved in: one where his wife lived but son died and another where the opposite occurred. Knowing NBC, this show will be loved by millions and cancelled in a month. I hope I'm wrong, it looks really cool. The preview of what will hopefully become one of TV's newest obsessions screened at the Con, and you see for yourself thanks to Hollywood.com's own Matt Patches' review of the Awake pilot.
The directing don was at the Con: Coppola does his first Comic-Con
He's directed some of the greatest movies of our time (The Godfather, Apocalypse Now), but Frances Ford Coppola has never been to ComicCon, until now. Sadly, he's not doing justice to grittier characters like Daredevil or the Punisher, but he did show off his original horror tale, Twixt, starring another semi-Hollywood recluse, Val Kilmer.
Tarsem Singh isn't known for making classics, but he's an ultra-visionary…
With films like The Cell (still the only J.Lo film besides Money Train worth watching) and The Fall, director Tarsem Singh carved out a unique corner of Hollywood for himself: out-of-this-world films with great color, phenomenal effects, and twisted stories. With Immortals, Singh takes the future Superman, Henry Cavill and turns him into Greek hero Theseus for what's sure to be a heck of a ride.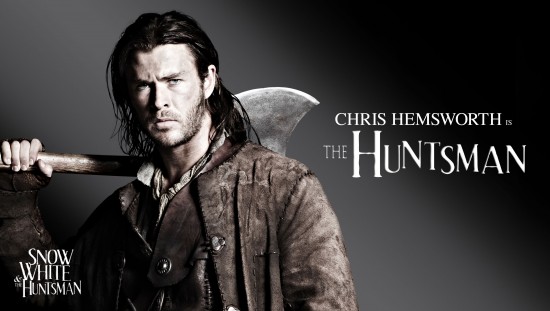 Snow White and the Huntsman: The ballad of Bella and Thor
Remember in Snow White and the Seven Dwarfs when the huntsman lets her go? Well, apparently he had a name – it's Eric – and a story of his own – to exact revenge on the people who killed his wife. This new story, brought to life by Rupert Sanders stars Kristen Stewart as Snow White, Charlize Theron as Queen Ravenna, and Chris Hemsford as the Huntsman and it's shaping up to be the next big Hollywood trilogy.
Emmy Rossum likes being naked, just don't ask her about it…
Rossum's Fiona is the glue that holds the Shameless Gallagher family together. Oh, and she also gets to get down a whole lot of business on the show with her boyfriend, Steve (Justin Chatwin). While she may bare all in those scenes, Rossum believes her character reveals a whole lot more of her emotions when clothed. Nudity is a part of life, why shouldn't it be a part of art…oh wait, it usually is.
Postmodernism gets more meta — if that's even possible — with the Knights of Badassdom trailer
When pop icons do battle with eachother over who can be more absurd, it's bound to be hilarious. Peter Dinklage (Game of Thrones), Ryan Kwanten (True Blood), Jimmi Simpson (It's Always Sunny in Philadelphia, and the reason Breakout Kings is watchable), and of course fan-boy goddess Summer Glau (Firefly, Terminator: The Sarah Connor Chronicles, and the way-better-than-Heroes-was 4400) join forces as real-world Live Action Role Players (LARPers) who inadvertanly summon a succubus in the aptly and comically-named Knights of Badassdom. The only thing missing from this film is the guy from Community who's obsessed with pop culture and is constantly breaking the fourth wall — oh wait, Danny Pudi is in this movie. Do they give Oscars for Casting Directors? Because Nancy Nayor deserves one!
What event from Comic-Con are you most psyched about? Is it next year's myriad of Marvel flicks? The new-old fantasy Snow White saga? How about some of this TV season's sure to be great shows (Fringe!) sound off in the comments and let our crack staff know, so we can set forth and give you the coverage you so desperately seek.