Actually, Don't Turn Off Your Smartphone: New App Brings Second Screen to Movie Theaters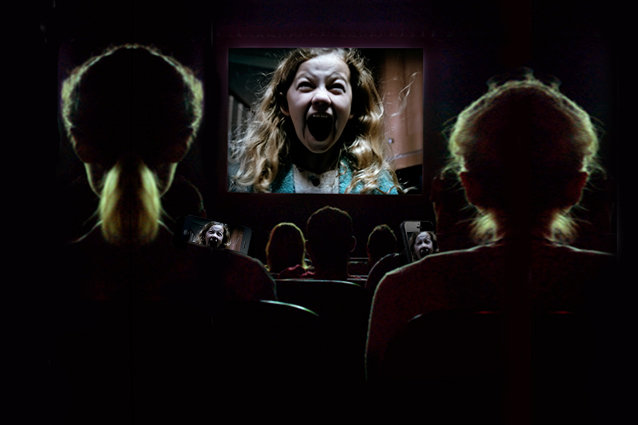 Maybe these days the big screen just isn't enough. 
Dutch production studio 2CFilms is pioneering a new multimedia cinema experience with a movie opening in the Netherlands on April 4 called App. You guessed it. Audience members themselves will be able to download an app to their smartphones prior to the start of the movie with which they can interface as they're watching the movie. It's the latest development in the highly lucrative second screen marketplace, which so far has been almost entirely relegated as an add-on to television viewing—not theatergoing. 
The "second screen" is the term for a viewer's device on which he or she is accessing the internet, reading and sending email, and tweeting and Facebooking, while nominally watching a movie or TV show on a primary screen. Traditionally that primary screen has been the TV, and you're having a second screen experience when you're communicating with your friends or researching plot points or background about a show on your computer, tablet, or smartphone. Twitter was the first social media channel to actively harness user comments about a particular show or viewing event, by allowing users to employ hashtags to explore a particular topic. However, TV networks themselves have begun developing second screen apps that viewers can download to their  smartphone, tablet, or laptop that is curated by the network and offers up supplementary content synchronized with shows as they are happening. AMC's successful Story Sync, for instance, goes live when, say, The Walking Dead does, and conveys a stream of behind the scenes information, trivia, photos, and even videos as the viewer is watching the show proper. It's like MTV's Pop-Up Video relegated to another device. AMC can include ads within the Story Sync interface to further monetize their already highly-monetized Walking Dead content and redirect viewers according to their needs.
Second screen apps make perfect sense for television viewing. Whereas Twitter expanded the parameters of Facebook by allowing any unprotected comment by anyone to be searchable, so these second screen apps allow viewers to chat with anyone who's likeminded in their interest in the show—not just their circle of Facebook friends and IM buddies. Bringing that concept into the theatrical experience is a wholly different beast, however.
RELATED: Twitter-friendly Movie Theaters
While home entertainment has traditionally emphasized quantity and options, theatergoing is about quality and singularity. People don't pay $14 for a movie ticket to surf the web on their smartphone while watching a movie. But actually, that's exactly what The Netherlands' 2CFilms is trying to do with App. Prior to the start of the film, you'll download a second screen app to your device to bring with you into the theater. The plot of the movie is about a young woman who is harassed by a hostile smartphone app called Iris, and by downloading an app to sync with the film yoursel, you are in essence replicating the protagonist's experience and placing yourself in her shoes. Using SyncNow digital watermarking from Civolution, the app will be able to read where you are in the movie at any given time and will dispense additional content geared to that point in the film. So if the protagonist gets threatening messages, this app will allow you to get threatening messages too to share her fear. You could see it as the latest distraction in an increasingly hostile movie theater environment or an even more immersive sensory experience.
Last year, some movie theaters began allowing its patrons to tweet during select screenings and even designated certain aisles as "Tweet seats." That can be a way to generate real-time buzz and word of mouth about a movie, the same, instantaneous way social media plays into building immediate reactions about TV shows. For a small film, like The Servant of Two Masters, which screened at a theater in St. Paul, MN with tweets allowed, that can be an invaluable assist. But for many, it could serve as a distraction from the experience of, you know, actually watching the movie.
Tom Noonan once said, "I don't think you go to a play to forget, or to a movie to be distracted. I think life generally is a distraction and that going to a movie is a way to get back, not go away." Well, adding a second screen to the big screen definitely makes theatergoing more distracting, no matter how you look at it.
Whether that's a good or bad thing is up to you.
Follow Christian Blauvelt on Twitter @Ctblauvelt
[Photo Credit: Hollywood.com Illustration]
---
You Might Also Like:


Topanga's Revealing Lingerie Shoot: Hello '90s!


Stars Who Have Lost Roles For Being Too Hot (Celebuzz)