See 'The Hobbit: An Unexpected Journey' In IMAX at Midnight, Get Stuff — POSTERS

Whoa, there—Peter Jackson and Co. want you to get to those midnight showings, man. Or maybe they just want to reward you for not being a total grandpa and being able to stay up late on a work night to check out a film. (Seriously, that's a skill.) So they teamed up with IMAX to bring you ever-loving J.R.R. Tolkien fans some sweet, sweet exclusive swag: limited edition (collector's series!) of four character posters prints from The Hobbit: An Unexpected Journey. These bad boys (seen below) will be handed out at midnight (12:01AM) IMAX screenings across the United States (click here to find participating theaters) while supplies last.
The prints feature four of the main characters from the first film: Bilbo Baggins, Gandalf the Grey, Thorin Oakenshield, and Gollum (you remember that creepy MFer from The Lord of the Ring films, right?). Styled to look like sketches on parchment, these prints will surely be a must-have for all the superfans you see waiting in line and/or all dressed up hours before the midnight screenings.
For those slightly less initiated into the fold, The Hobbit: An Unexpected Journey follows the story of Bilbo Baggins, as he finds himself involved on a super-epic quest to reclaim the lost Dwarf Kingdom of Erebor. The Kingdom, you see, had been previously conquered by a big ole' dragon named Smaug, which was totally uncool. Along with the aptly-named wizard Gandalf the Grey, Bilbo joins a gaggle of thirteen dwarves and one legendary warrior Thorin Oakenshield to do the deed. Their journey takes them to treacherous lands swarming with things called Goblins, Orcs, Wargs, Shapeshifters, Sorcerers and some big-ass spiders. (I don't understand how anyone could mess with some big spiders.) Oh yeah, there's that scrawny little Gollum fellow, too. You know, Gollum, he's the one that has the precious ring that's all tied to the fate of all Middle Earth and ends up at the center of The Lord of the Ring trilogy? It was a really small, independent film series and set of books, you've probably never heard of it though (har har har). This is the prequel to all of that. See? Not afraid to be servicey, here, folks.
Which poster is your favorite?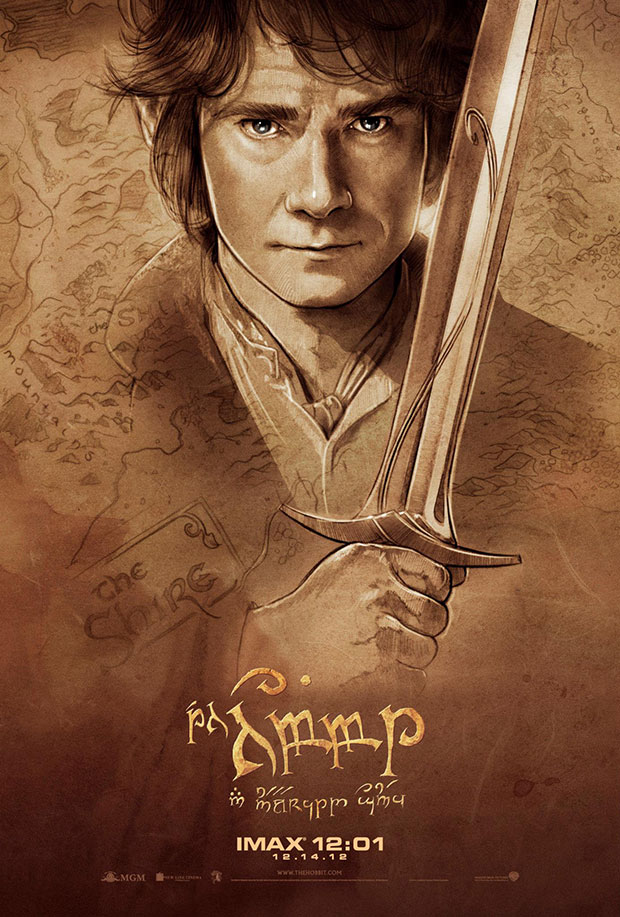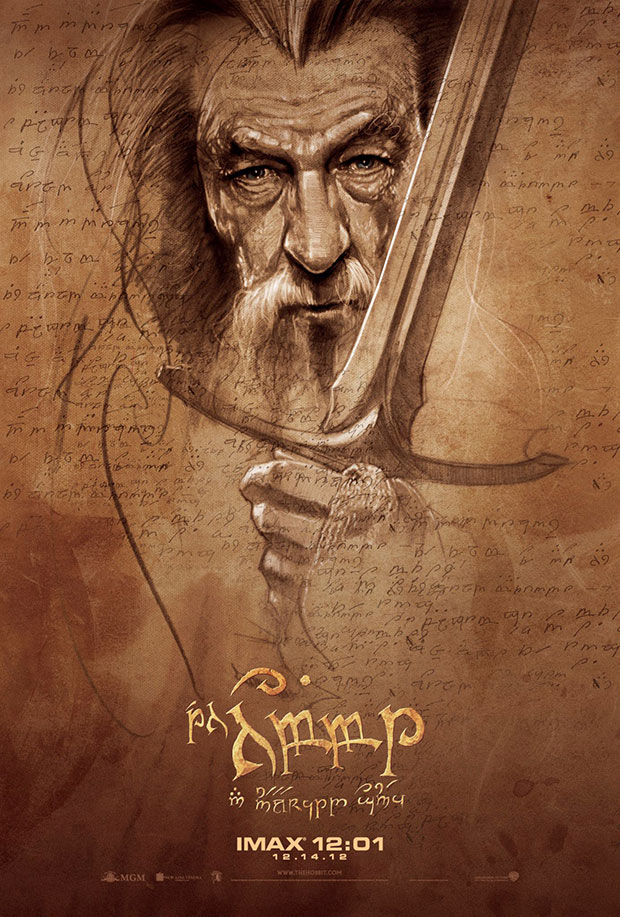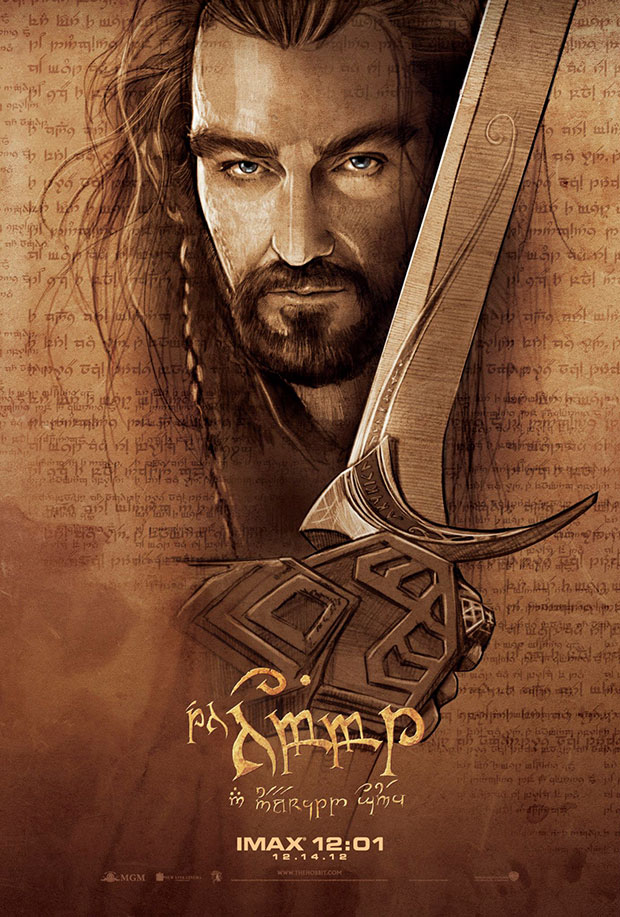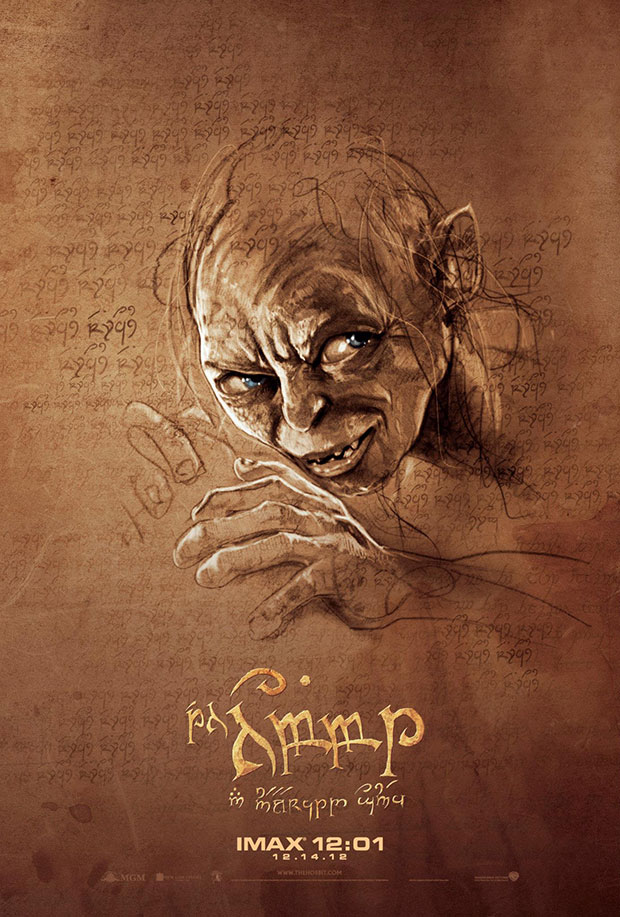 The Hobbit: An Unexpected Journey arrives in theaters December 14, 2012.
[Photo Credit: Warner Brothers]
Follow Alicia on Twitter @alicialutes
More:
'The Hobbit: An Unexpected Journey' World Premiere: Watch the Live Stream Here!
Warner Bros Responds to 'The Hobbit' Animal Abuse Claims
Taking an Unexpected Journey to Middle Earth? 'The Hobbit' has Your In-Flight Safety — VIDEO
You Might Also Like:

Best Nude Scenes of 2012 — PICS

'Hunger Games: Catching Fire' First Look: The Quarter Quell Begins! — PICS