'Skyfall' Stuntman Gary Powell Reveals His 4 Most Difficult Bond Challenges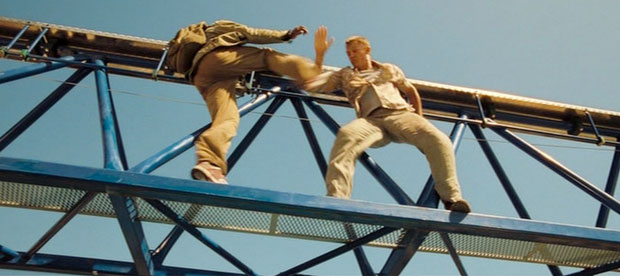 Gary Powell is the guy you call when a movie stunt enters "death-defying" territory. Powell has worked steadily in the world of stunts since the '90s, with credits ranging from Braveheart to Titanic to 101 Dalmatians. The physically demanding career eventually lead him to become a stunt coordinator, a job as immersive as the hands-on role of a stuntman but that also required Powell's creativity and eye for orchestration. In the naughts, Powell worked as the maestro of stunts on film like Alexander, Indiana Jones and the Kingdom of the Crystal Skull, and the upcoming samurai epic 47 Ronin (which Powell revealed a few secrets to us about earlier this year).
Scrolling through his lengthy list of credits, it's clear that Powell's career has a backbone: the James Bond franchise. Powell helped shape the series' action set pieces as a stuntman in Goldeneye, Tomorrow Never Dies, The World Is Not Enough, and a stunt coordinator in Casino Royale and Quantum of Solace. He returns again for this week's Skyfall.
"It's a lot bigger job than what people think it is," Powell tells Hollywood.com. "It's months beforehand going through the scripts. Getting the director's ideas. Having your input in it as well. And then when a particular stunt is OK, it's talking to the other departments. We might have to have certain bits done to the costumes. If Bond's wearing some really nice shoes, we might have to have a pair that has rubber soles on them. For slippery floors. You wouldn't want leather shoes."
Every minutia of an action scene must be concocted by Powell and his team before cameras roll, making his job one of the few that balances the grand with the hyper-detailed. Powell ran down some the wildest work he's done on the franchise to prepare us for his latest tricks that will explode screens in Skyfall. When Powell talks about his dangerous career, he makes it sound like another day at work. But to an outsider, it sounds absolutely insane:
GoldenEye: The Tank Chase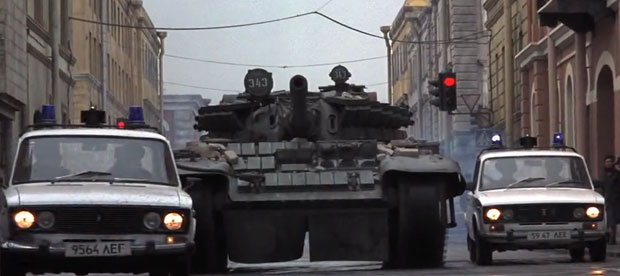 "I was driving the tank in [GoldenEye]. We built a huge set in the studios, which was a lot easier for us so we were 100% in the control of it. But when I was driving the tank in Russia — we did some stuff on small streets in Russia — and, when you're doing 30 miles per hour in a 35 plus ton tank, it doesn't stop like a car.
"It was quite stressful when you're going down towards buildings that are 100 years old and you see the look of fear of God on the Location Manager's face… if we hit this buidling, we're all going to get locked up for the rest of our lives! It plays on your mind a little bit."
The World Is Not Enough: The Boat Chase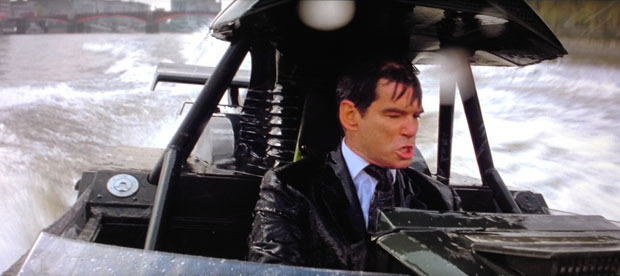 "I drove the little black jet boat that did the barrel roll. I was known for jumping in any vehicle and drive it. I also drove the crane in Terminator 3 and the double decker bus in Harry Potter [and the Prisoner of Azkaban].
"It was really fast. Incredibly fast. It was this little jet boat that can literally run in six inches of water and turn on a dime. It was great fun. I was also driving the skidoo things in the Alps. That was in Chamonix in France. Everything we do is out of the health and safety rule book."
Casino Royale : The Collapsing Italian Villa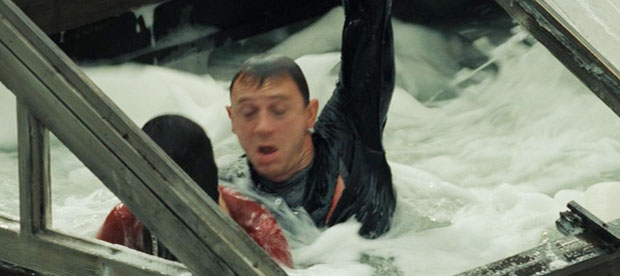 "That was a major build. Chris Cobalt built an amazing rig for that house. The whole house weighed nine tons. And the whole thing was on hydraulics so it could sink inside the water and tilt and pan. That was a huge operation for us. Everything had to be specifically built — if Bond hit something, it had to fall away. The lift slides, the stairs give way … we couldn't just build something and say, 'This is what we're going to do.' While we were doing that we were also shooting the airport sequence. You get pulled on a job."
Quantum of Solace: The Burning Hotel Fight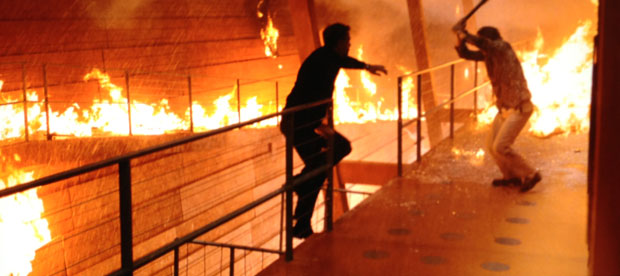 "The exteriors were in Peru, but everything inside was a set piece at Pinewood. It was hot in there. There was a lot of fire. We had Daniel in there, and he had a fire suit on. He wanted to be in there with all the roofs collapsing around him!"
Check back next week when Powell tells us all about conceiving and pulling off the wild stunts from Skyfall.
Follow Matt Patches on Twitter @misterpatches
[Photo Credits: MGM (2); Columbia Pictures (3)]
More:
'Skyfall' Star Daniel Craig on Bond Fandom: 'There Are Too Many Voices to Make Any Sense Of'
'Casino Royale' Is My Favorite James Bond Movie
'Skyfall' Producer Barbara Broccoli on 'Serious Bond' and 9/11's Impact on the Series
From Our Partners:

New Bin Laden Movie: Oscar-Bound?
(Moviefone)

(Moviefone)