'Smurfs 2': Katy Perry Discovers Her Naughty Smurf — TRAILER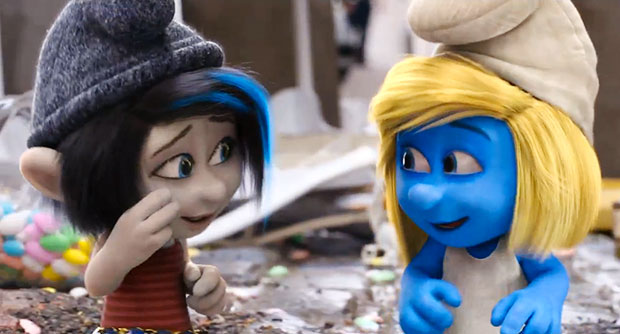 2011's The Smurfs, director Raja Gosnell's live-action adaptation of the popular cartoon characters, was easy to hate on. If there's anything the Internet loves to despise, it's childhood pop culture modernized for today's young audiences. But you know what? The Smurfs was terrific. A silly kids movie with a lot of heart that never took the cheap shots. Yes, there was a scene where the Smurfs, magically transported from Smurf Village to New York City, discover and rock out to Guitar Hero, but hey, kid's play Guitar Hero.
So don't be quick to judge the new trailer for The Smurfs 2, which reintroduces us to the gang — including Papa, Clumsy, Gutsy, Smurfette, and their human companions, Patrick (Neil Patrick Harris) and Grace (Jayma Mays) — as well as some new faces. This time, Gargamel has traveled to Paris to conjure up his own pair of anti-Smurfs dubbed "The Naughties." Voiced by Christina Ricci and J.B. Smoove, evil wizard Gargamel (Hank Azaria) hopes the Naughties will take Smurfette (Katy Perry) out for one hell of a night on the town, draining her of her innocence and becoming one of them. Losing her blue opens the door for more evil plotting on the part of Gargamel, so obviously the Fellowship of the Smurf jumps into action to rescue Smurfette.
Check out the trailer below, which features Azaria once again giving a hysterical cartoon-come-to-life performance that will never be appreciated by anyone who completely writes these movies off:
Follow Matt Patches on Twitter @misterpatches
[Photo Credit: Sony Pictures]
More:
Honey, Amanda Seyfried Shrunk Herself in New 'Epic' Trailer — TRAILER
'Despicable Me 2': One Giant Leap for Minion Kind — TRAILER
'Monsters University' First Teaser Trailers: Mike & Sully Go To College — VIDEO
From Our Partners:

'The Hobbit' Cast: A Who's Who New Character Guide (Moviefone)

'Les Miserables' Unscripted: Hugh Jackman, Anne Hathaway On Singing And Being Modest