'Star Wars: Episode VII' Lines Up 5 Actors to Play the Lead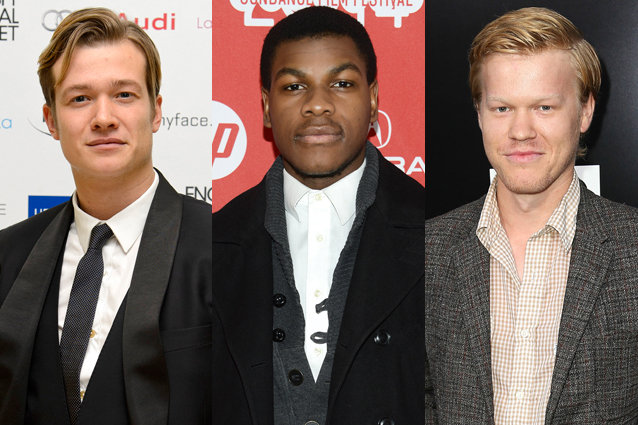 Getty Images
After a very deliberately paced casting process, the new adventure in a galaxy far, far away in finally starting to take shape. According to Variety, John Boyega, Jesse Plemons, and Ed Speleers, as well as theater actors Ray Fisher and Matthew James Thomas are all  in the running for the lead role in Star Wars: Episode VII. The role is rumored to be a Jedi apprentice, and will likely see the character learning the ways of the Jedi from Mark Hamill's Luke Skywalker.
It seems that director J.J. Abrams is targeting relatively unkown actors for the lead roles, a move that worked wonders in A New Hope. In the past, Abrams and other members of the production have been vocal about returning the franchise to its roots, and evoking the qualities that made the original  trilogy such a dearly beloved series among fans. After sifting through the short list of actors, we wondered which of the more notable names would go on to make the best Jedi apprentice.
JOHN BOYEGA
Notable Roles: Moses in Attack the Block.
Jedi Potential: Jedis are the stoic protectors of the galaxy. As we saw in Attack the Block, Boyega can do stoic very well. But beyond that, Boyega's turn in ATB also conveyed a hidden rage burning under the surface of his character, and the ability to give a nuanced performance is important considering how flat the Jedi have come across in the past. Seriously, Star Wars found a way to make Samuel L. Jackson boring.
Lightsaber Prowess: In Attack the Block, Moses' chosen weapon to fight off alien invaders is a katana, which is a weapon only a couple million technological innovations away from a lightsaber. By that logic, Boyega should be a natural, though some bandages might come in handy.
JESSE PLEMONS
Notable Roles: Todd in Breaking Bad, Landry in Friday Night Lights.
Jedi Potential: There's something inherently goofy about Jesse Plemons. Even when portraying a mush-mouthed sociopath in Breaking Bad, it was hard to stay mad at him. While those characteristics might have worked in the pitch black humor of Breaking Bad, we wonder how this might play in the Star Wars universe, especially considering how seriously the Jedi generally take themselves.
Lightsaber Prowess: A true Renaissance man, Friday Night Lights' Landry Clarke was not only one of the best kickers Dillon High School had ever seen, but he was also the lead singer in the Christian speed metal band Crucifictorious. When you've already touched greatness in faith based rock music and high school football, handling a lightsaber should be cake.
ED SPELEERS
Notable Roles: Eragon in Eragon, Jimmy in Downton Abbey.
Jedi Potential: Speleers' first taste of fantasy filmmaking came in Eragon, a popular book series that didn't have the legs to last as a succesful film property. Speleers' character on Downton Abbey, Jimmy, is the confident and charismatic footman at Downton, and his bravado and flirtatious tendancies have often gotten him in trouble at the estate. Words like "bravado" and "charisma" don't usually go hand in hand with Jedi, but afterthe prequel films, we don't think most fans would mind a little diversity in Jedi personalities.
Lightsaber Prowess: There isn't much in the way of swordplay on the estate of Downton, but Speleers did get some bladework in while filming Eragon, so a lightsaber shouldn't be too big of an adjustment.
MATTHEW JAMES THOMAS
Notable Roles: Peter Parker/Spider-Man in Spider-Man: Turn off the Dark
.
Jedi Potential: Thomas' time as the geeky arbiter of justice, Spider-Man, should give him an edge in the Jedi department. The infamous Broadway production was full of high flying wire work, so Thomas should be well equipped to handle any stunts in the upcoming film. In any case, Jedi are sort of the geeks of the galaxy anyway.
Lightsaber Prowess: Peter Parker isn't one for swordplay, so Thomas might be a little lost during the lightsaber battles, but all of that Spidey training will still come in handy.
RAY FISHER
Notable Roles: Muhammad Ali in Fetch Clay, Make Man.
Jedi Potential: A virtual unknown in the film world, Fisher doesn't have many big screen credits as of yet, but the young thespian does have a good amount of experience in theater. The actor recently played Muhammad Ali in the off-Broadway production of Fetch Clay, Make Man. Ali was a fierce boxer as well as a thinker, and the Jedi order has the same dichotomy of violence and philosophy. We think Fisher may be more qualified for the Jedi Robes than his IMDB page lets on. He'll certainly be the coolest Jedi ever.
Lightsaber Prowess: Honestly, who needs lightsabers when you're the heavyweight champion of the world? The force is strong with this one, even without any laser sword experience.