Sundance 2011: 'Knuckle' – A Boxing Movie That Will Give You A Black Eye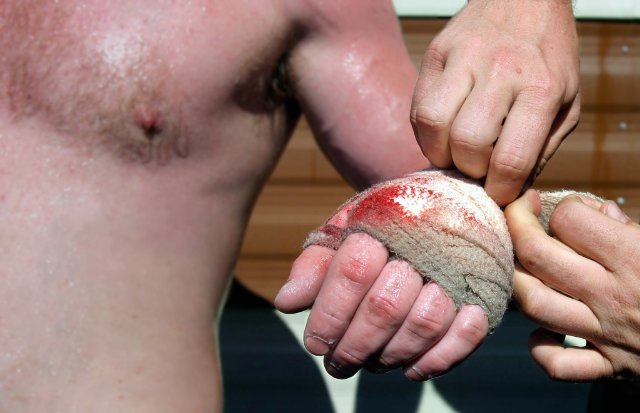 The underdog. The coach. The big match. The knockout.
Boxing movies – they're a staple of Hollywood. And why not? They're adrenaline-pumping stories loaded with metaphors. Audiences will always be able to relate to two men duking it out, which means the genre won't be slowing down anytime soon. 2010's two entries to the genre, David O. Russell's true story The Fighter and FX's newest drama Lights Out, make that perfectly clear.
But there's another side to the fight. The real world side. The new Sundance documentary Knuckle chronicles two feuding Irish families, the Quinn McDonaghs and the Joyces, over twelve years, as they resolve their differences through hate mail, public mudslinging and bare-knuckled boxing. Director Ian Palmer followed the warring clans as they annually engaged each other in gritty, mano-a-mano duels, often resulting in the loser suffering a broken nose, bloody eyes and gashes a plenty. Brad Pitt's character in Snatch wouldn't last two seconds with these brutes.
The shocking footage is the core of Knuckle, which attempts to wade through the mystery of why the families are fight. Palmer can't find a concrete answer, making the visceral fisticuffs that much more mesmerizing. The men channel their ambiguous anger into rapid punches and no one (including the fighters' wives and children) comes out unscathed.
Knuckle shakes up the conventions of traditional boxing movies. You won't be cheering when Mickey Quinn McDonagh illegally sinks his teeth into his opponent's nipple, or when Big Joe, the Joyce patriarch, returns from retirement to fight another 70-year-old man. People can die bare-knuckle boxing. Rocky was never going to die.
Hollywood is already eating up the documentary's raw portrayal of the underground sport. With strong buzz, Deadline reported that studios are dueling over remake rights for a possible narrative feature adaptation. Good luck to them – this one doesn't have a happy ending. In fact, it doesn't have one at all. Just more fighting.