Sundance 2012: LCD Soundsystem Doc 'Shut Up and Play the Hits' Is an Epic Finale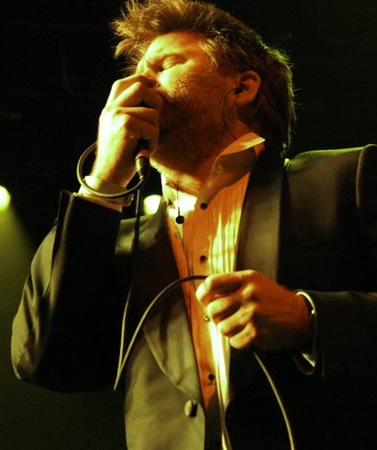 I've been told that, before weighing in on the new documentary concert film Shut Up and Play the Hits, I should acknowledge that my relationship with LCD Soundsystem is not one of fandom, but casual familiarity. My limited knowledge consis of an awareness of their existence, recognition of a few of their popular tunes and a recollection of the atomic bomb dropped by the electronic punk band on its devout back in February 2011. Seemingly out of nowhere, LCD Soundsystem lead man James Murphy announced that the group's run would be coming to a close in April, with one last show at Madison Square Garden in New York City. While the definitive ending felt spontaneous, the actual event was anything but, with a final playlist of epic proportions, a show of elaborate of theatrics, cameos drawing from LCD's history and a camera crew documenting the entire process, before and after the concert. I may not be an LCD Soundsystem fan, but thanks to Shut Up and Play the Hits, I can say with confidence that Murphy's critically acclaimed music group went out with a grandiose (and fitting) bang.
Instead of sticking to a string of musical numbers, Play the Hits toys with non-linear storytelling, cross-cutting LCD Soundsystem's performance footage with a pre-show interview between Murphy and Chuck Klosterman and moments from the morning after. Klosterman's Q&A is layered over the film to create introspective narration, but the questions never pierce Murphy's reserved exterior. The post-show footage is equally meandering and uninteresting, with long stretches of Murphy shaving, walking his dog and meeting his former band members for a nice sit down meal. In the wake of LCD Soundsystem, Murphy is a retired man and the movie captures exactly what he'll spend his time doing—but it's not that interesting. Shut up and play the hits, indeed.
As one might guess, it's the explosive last hurrah of Murphy and his band that sparks, each song capturing every ounce of passion, ingenuity and rhythm left in LCD Soundsystem. With a full band, a male choir, special guests like Reggie Watts and Arcade Fire, a screaming, headbanging crowd and a helping of LCD Soundsystem's finest, the concert footage is electric and concert, occasionally repetitive due to limited camera positions, but ignited by Murphy's goal to put on one hell of a show.
A man retiring at the peak of his career is a fascinating topic for a documentary, but Shut Up and Play the Hits isn't that movie. The film is about a singular experience, the gravity of having an actual end point. When the doc strays off path to dig into Murphy's complicated choice, it looses steam. But at least in the movie, unlike LCD Soundsystem's actual career, you know there's always another song coming.
="font-style:>