'The Fault in Our Stars' (a Book That Left Us Weeping) Gets a Director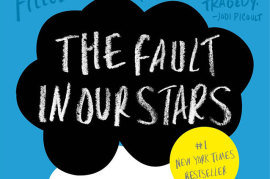 The movie version of John Green's gorgeous, devastating novel The Fault In Our Stars is one step closer to reality: A director has finally been chosen to helm the adaptation, which was written by (500) Days of Summer scribes Scott Neustadter and Michael Weber.
Josh Boone will direct, according to The Hollywood Reporter. The director tells THR in a statement that he first read the best-selling book after he lost his friend. "John's book came along just when I needed it. It pierced my heart and helped me deal with my grief. I laughed and cried and was left with an overwhelming feeling of hope. That our lives matter, that the love and kindness we share with others reverberates long after we're gone.

"
RELATED: 'Beautiful Creatures,' 'TFIOS' and More YA Books You Should Know About
Green's book, about a teenage cancer patient who falls in love with a boy she meets in her cancer support group, was named Time's best book of 2012 — that's the best of all books, not just young adult ones. If you haven't yet checked out the story, be forewarned: You'll need at least a box of tissues for all the tears you'll shed.
Because Boone is such a fan of The Fault In Our Stars, he feels the same emotional connection the novel's many fans have to the story and shares their fears about the movie not living up to its source material. "I feel the weight and responsibility to get this right and give [Green's] readers and devoted fans as pure a translation as possible," he tells THR. "We hope to create a little infinity within this film that fans can revisit over and over."
Boone's first movie, Stuck in Love, debuted to acclaim at the 2012 Toronto International Film Festival and is scheduled for release on April 19.
Follow Jean on Twitter @hijean
---
From Our Partners:


'Groundhog Day' Cast: Where Are They Now? (Moviefone)


40 Most Revealing See-Through Red Carpet Looks (Vh1)