'The Girl with the Dragon Tattoo' Arrives on Blu-ray and DVD on March 20!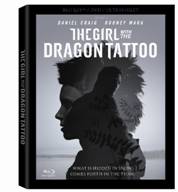 David Fincher's English-language remake of the Swedish sensation The Girl with the Dragon Tattoo was well received by critics and a modest box office success this Winter, and with five Academy Award nominations it's still buzzing around the world as we inch closer to the Oscars ceremony on February 26. Less than a month after the film hopefully takes of few of those purty gold statues, fans will be able to take it home in a sleek, sexy three-disc Blu-ray Combo Pack and one-disc DVD. 
The DVD comes with a feature length commentary track from director Fincher, but if you've got the means we highly recommend checking out the Blu-ray/DVD Combo Pack as its two Blu discs come fully loaded with over four hours of bonus features including an UltraViolet version allowing instant streaming capabilities as well as:
•Vangar Archives: 
– Men Who Hate Women 
– Characters 
        • Salander, Lisbeth – Casting Salander, Different in Every Way, The Look of Salander,
Mara
/Fincher, Irene Nesser, Salander – Test Footage 
        • Blomkvist, Mikael – Casting Blomkvist,
Daniel Craig
on Film Acting, Dressing Blomkvist, Investigation (stills) photogallery 
        • Vanger, Martin –
Stellan Skarsgård
on Film Acting, Psychopathy, Bondage, Torture, Wrapped In Plastic, Set Design(stills) 
– On Location 
        • Sweden – Stockholm Syndrome, Stockholms Tunnelbana, Fuck These People, The End, Picture Wrap 
        • Hollywood – Casting Armansky, Armansky Audition, Thinking Evil Shit, Rape/Revenge, Int. Blomkvist's Cottage, Int. Martin's House, Int. Salander's Apartment 
– Post Production 
        • In The Cutting Room 
        • ADR 
        • Main Titles (Multi-Angle) With Commentary by Tim Miller of BLUR Studio 
        • Visual Effects Montage 
– Promotion – Theatrical trailers, TV spots, one sheet 
        • Hard Copy- Commentary with Director David Prior
All in all, this is a release that shouldn't be missed by anyone. Remember to get your hands on it on March 20!