The Rock Flexes His Pecs in 'Journey 2 the Mysterious Island' Trailer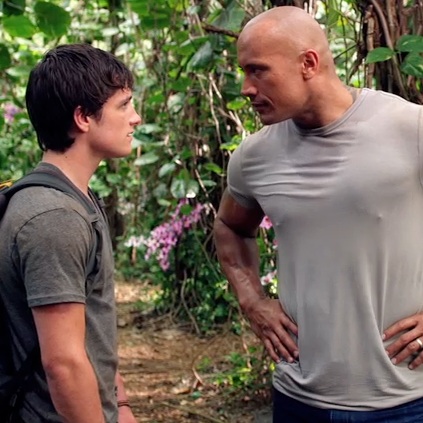 2008's Journey to the Center of the Earth is a goofy roller coaster ride, an exercise in gimmicky 3D that painted a Lisa Frank fantasy world in which stars Brenden Fraser and Josh Hutcherson could show off their action skills. Harmless, brainless, heartfelt and fun—it's hard to knock Journey because it's just so darn good-natured.
When the movie debuted to modest returns, sequel talk was a buzz, but in the time it took to figure out where the franchise could go, the movie lost Fraser. Thankfully, the departure of a lead doesn't appear to be much of an issue, as the first trailer for Journey 2: The Mysterious Island looks as ridiculous, wild and triply as the original. The movie puts Hutcherson front and center, rounding out the cast with an eclectic, baffling ensemble including Vanessa Hudgens, Luis Guzman, Sir Michael Caine and Dwayne "The Rock" Johnson. Finally, dreams of seeing a six-time Oscar nominee, a former cast member of High School Musical, a character actor staple and the greatest wreslter-turned-actor riding giant bees and fighting off monster lizards come true.
Check out the trailer, which mixes the first movie's comedy/action style with EPIC Avatar-style trailer music to produce one of the sillier spots of late. Instead of winking at the camera to let us know that the movie's not taking itself too seriously, Johnson performs the "pec pop of love." Same thing.
Journey 2: The Mysterious Island hits February 10, 2012.
="FONT-STYLE:>