So Who Will Steve and Rob Impersonate in 'The Trip to Italy'?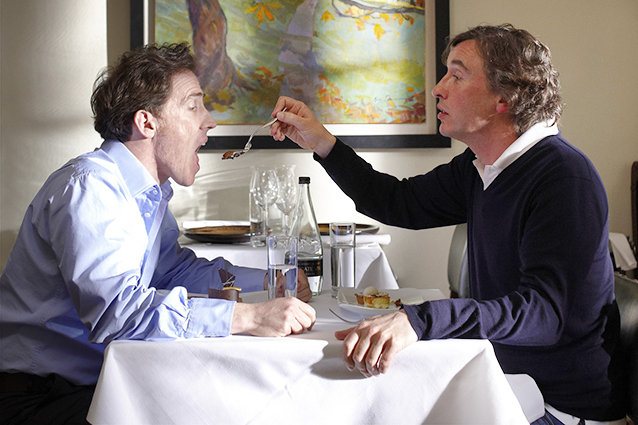 "She was only fif… teen… years… old."
Perhaps the most iconic piece of dialogue in contemporary international cinema, depicting the climactic, shuddering horror in a man's descent from glory to grief. The philistines will no doubt associate this phrase with its origin in the '69 crime epic The Italian Job. But those with a more sophisticated palette will recognize the most artistic recitation of this line as that belonging to Michael Winterbottom's The Trip: a meandering wonder of nuanced comedy that starred Steve Coogan and Rob Brydon as themselves on a tasting tour throughout England. After feasting primarily on their own senses of self-aggrandizement, Steve and Rob will return again for another road comedy send-up in The Trip to Italy, which Deadline reports has just been picked up for American distribution by IFC Films.
The Trip is one of those rare gems that was perfect in its individual form but whose characters and style are entirely condusive to another round of comedy. There are always more movies to quote and impressions to duel over. And now that Steve and Rob are high-tailing it to Italy, we wonder which residents of the boot will receive the Michael Caine treatment?
The obvious first choices are Robert De Niro and Al Pacino (impersonated in The Trip), but what about some authentic first generation Italians? Roberto Benigni, Isabella Rosellini, and Joel McHale (hey, he was born in Rome)? We look forward to each and every one of the pithy, passive-aggressive conversations shared by the contentious comedians in The Trip to Italy. And yes, we'll even take another round of nothing but Caine-isms.
Follow Michael Arbeiter on Twitter @MichaelArbeiter | Follow hollywood.com on Twitter @hollywood_com
More:
'Prince Avalanche' Trailer
'A Field in England' Teaser
First Look at Miyazaki's 'The Wind Rises'
---
From Our Partners


Stars Pose Naked for 'Allure' (Celebuzz)


20 Grisliest TV Deaths of 2012-2013 (Vulture)