Today's Google Doodle: What Does It Mean?
Google Doodle days are the greatest days. The mornings when you log onto your computer, open up your Internet browser, and notice that the Google homepage has been overtaken by an interactive drawing, commemorating a famous birthday, historical event, or invention. It is fair to say that Google Doodles are the chief provider of unparalleled entertainment for mankind today. You could even call them the drive-in movies of modern times. How convenient! That's exactly what today's Google Doodle is about: drive-in movie theaters.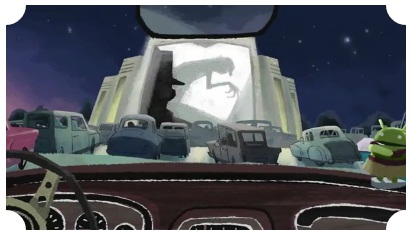 Exactly 79 years ago today — June 6, 1933 — the very first drive-in movie theater was opened. The creation came from one Richard Milton Hollingshead, Jr., heir to the R.M. Hollingshead chemical plant in Camden, N.J., where the theater was built. Anyone who has ever seen Grease, Happy Days, or the closing theme of The Flintstones (or… you know… actually existed during the '50s or '60s), knows that drive-ins were a prevalent source of entertainment through the middle of the 20th Century.
According to Drive-ins.com, there were 4000 drive-in theaters operating in the United States in 1958. Today, there are only 366. Click here to check out the Google Doodle.
More:
Google Glasses: Five Sci-Fi Movies to Prepare You For 2017's Eyewear Fashion