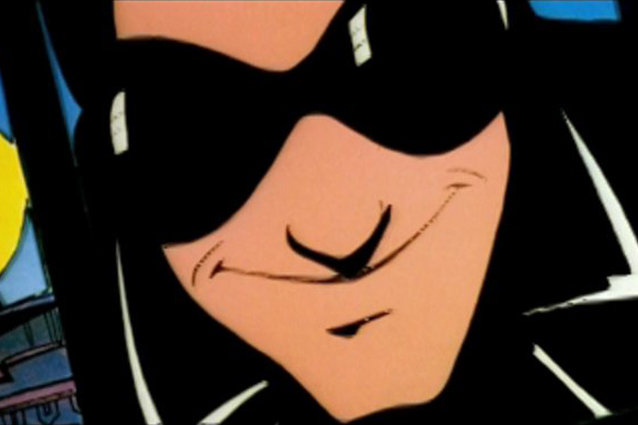 Youtube
While Hans Zimmer's scores have expertly matched the dark tone of Christopher Nolan's Batman  trilogy, it seems a shame that the rebooted caped crusader has been robbed of the blockbuster pop song in addition to a sense of humor, a concise running time and in the case of The Dark Knight Rises, a coherent plot. Indeed, Batman & Robin may have been slaughtered by critics for its style over substance, wooden performances and Mr. Freeze's horrendously corny one-liners, but at least it had a great theme tune. Here's a look at five of the best songs released during the Keaton/Kilmer/Clooney era.
Prince – "Batdance"
One of nine tracks The Purple One recorded for 1989's Batman, US number one hit "Batdance" might not exactly be his finest hour. But its slightly ridiculous mix of percussive dance-pop, slinky electro-funk and sampled dialogue certainly echoed the chaos caused by Jack Nicholson's The Joker.
Siouxsie & The Banshees – "Face To Face"
Adopting the slinky feline persona of Catwoman, goth-punk icon Siouxsie Sioux sensuously purred her way through this appropriately tense waltz-like accompaniment to Batman Returns' revelatory ballroom scene.
Seal – "Kiss From A Rose"
Initially ignored on its 1994 release, "Kiss From A Rose" then topped the US charts a year later when it landed on the Batman Forever OST. Slushy it may be, but an impassioned Seal sells the pop madrigal as if his life depended on it.
U2 – "Hold Me, Thrill Me, Kiss Me, Kill Me"
Nominated for both a Golden Globe and a Razzie, this T. Rex pastiche divided audiences when it appeared on the soundtrack to Joel Schumacher's less-derided directorial attempt. But 18 years on, its majestic electro-rock production stands shoulder to shoulder with anything else U2 produced during the 90s.
The Smashing Pumpkins – "The End Is The Beginning Is The End"
One of the few good things to come out of 1997's disastrous franchise-killing turkey, Billy Corgan and co. picked up a Grammy for this suitably bombastic mix of crunching guitars and propulsive beats, a slowed-down remix of which was later used in the trailer for Watchmen.
More
New Meme: The Internet Recasts Batman
45 Jokes About The Fact That Ben Affleck Is Playing Batman
What 'Batman Vs. Superman' Can Do To Succeed
---
From Our Partners:


40 Most Revealing See-Through Red Carpet Looks (Vh1)


15 Stars Share Secrets of their Sex Lives (Celebuzz)