'Total Recall': Kate Beckinsale & Jessica Biel on Their Big Fight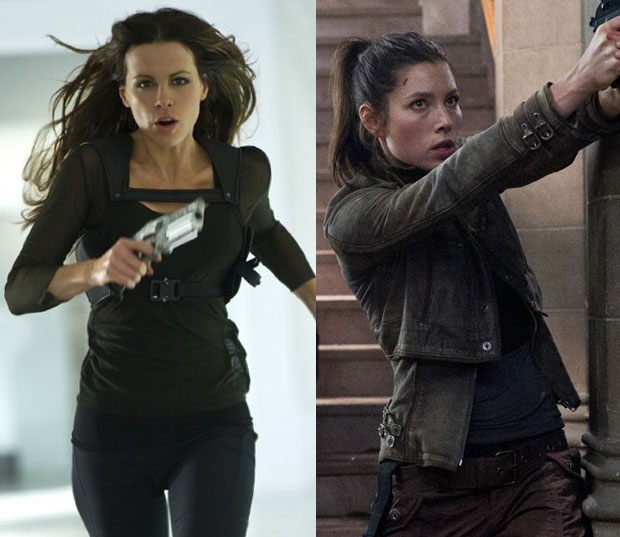 Hollywood doesn't serve up too many action-friendly parts for its leading ladies, let alone vehicles that pit two women against each other. But that's what we get with Total Recall. While the movie's main plight focuses on a man, he's completely out of the know. The only people with any idea what's going on — and are confident in their abilities to kick ass — are the duo of women in his life. In this case, Jessica Biel and Kate Beckinsale.
In Total Recall, Colin Farrell plays Douglas Quaid, a factory worker living a normal life with his wife (Beckinsale) until he visits Rekall, a company that claims to turn your wildest dreams into actual memories. It's his seemingly harmless request to elicit memories of a life as a secret agent that turns his real world upside down.
After his memory procedure at Rekall goes horribly awry, Quaid finds himself on the run from a police force controlled by Chancellor Cohaagen (Bryan Cranston). While being chased by authorities, Quaid must rediscover who he is and whom he can trust with the help of a rebel fighter (Biel). Like the original, this reboot is also inspired by the short story, "We Can Remember It For You Wholesale" by Philip K. Dick.
Hollywood.com sat down with the two stars of Total Recall to discuss their roles in the film, the physicality of their inevitable throwdown and how they prepared for the duel. Check out both interviews below!
Kate Beckinsale
[Photo Credit: Sony Pictures]
More:
Bryan Cranston's Amazing Impression of 'Breaking Bad' Costar Dean Norris — EXCLUSIVE VIDEO
'Total Recall' Star Colin Farrell Dishes His Biggest Hurdle: Bacon — VIDEO
Origins of 'Total Recall': Is a Faithful Philip K. Dick Adaptation Possible?