Watts the Di-fference Between These Pics? See Naomi Watts as Princess Di — PICS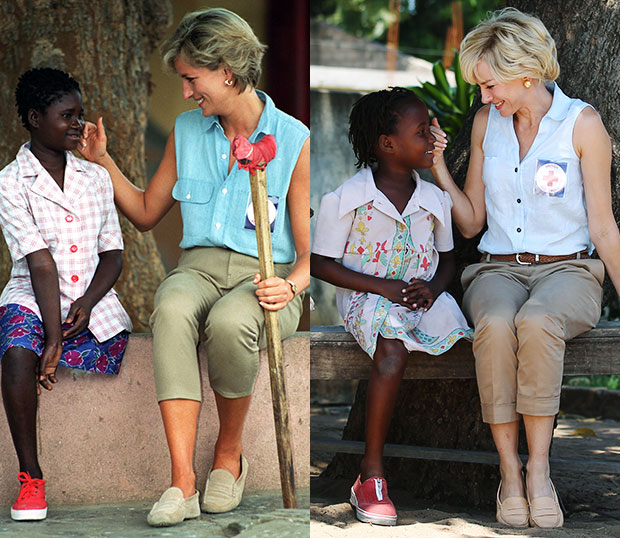 As such an immortally beloved figure, Princess Diana will be a difficult figure to embody for any performer, no matter how capable. As such, it's difficult to assume that Naomi Watts will wow in the upcoming biopic Diana (formerly Caught in Flight), wherein she portrays the Princess of Wales during her highly spotlit life.
Above, see the real Princess Di during her memorable Red Cross tour of Angola in 1997, during which she met with, among other local residents, a young child who was robbed of her left leg by a land mine. On the right, Watts recreates the event with just about everything in tact: the hair, the clothes, the Red Cross badge. Watts is spot on.
Of course, just because she has the look down, that doesn't mean that everybody is necessarily going to buy her as Princess Diana. Although the actress has more than proven herself adroit at the delivery of drama, comedy, horror, the works, this is England's Rose we're talking about: one of the most venerated individuals in recent Western history. Through her philanthropic work, her tumultuous personal life, and her tragic passing, Princess Diana has earned a superhumanity that Watts will have to work some serious magic to translate to the screen.
But we're not doubting Watts' potential for a great performance, Watts' forthcoming turn as Princess Di will be given its share of excitement and anticipation. How do you think she'll fare?
[Photo Credit: Tim Graham/Getty Images; Greg Sirc/Splash News]
More:
Amy Adams and Lee Daniels Join Janis Joplin Biopic Race
Robert Pattinson to Star in Dark Comedy 'Hold On To Me' with Carey Mulligan
How Animators Brought Monty Python Back to Life — EXCLUSIVE VIDEO
From Our Partners:

NY Comic-Con: 34 Crazy Costumes
(Moviefone)

(Moviefone)