What Are Natalie Portman and Michael Fassbender Doing with Lizardman? — PIC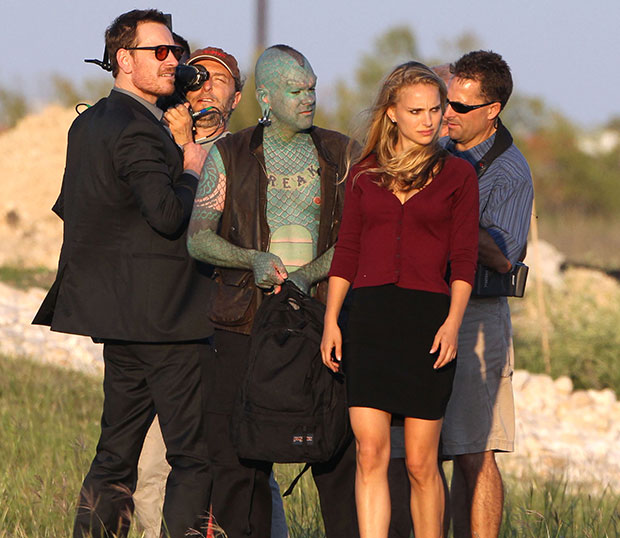 The plot for the next film from heralded (and elusive) director Terrence Malick (The Tree of Life) is currently unknown. There have been a few vague details and a plenty of set photos revealing the bevy of A-list stars involved, including Ryan Gosling, Rooney Mara, Michael Fassbender, Natalie Portman… and maybe Christian Bale (who is also starring in another Malick film shooting concurrently? It's anyone's guess — that's how close to chest Malick keeps his work.
So when a picture like this crosses the Hollywood.com desks, imaginations run wild. Fassbender and Portman looking gorgeous? In the middle of a field? Trailed by Austin hometown hero Erik Sprague aka The Lizardman?
Here are a few possibilities as to what might be going on:
"Here, we see Terrence Malick's new stars, Michael Fassbender and Natalie Portman, playing a pair of ambitious cryptozoologists scanning the American countryside in hopes of spotting the legendary Lizard Man, completely unaware that creature is right there in front of them — one of the perks of being half chameleon."
"Fassbender and Portman are about to shoot the movie's big scene, an emotional explosion that should nab Portman a second Oscar. Fed up with Fassy's character's inability to see or believe in her invisible friend Charlie (Lizardman), Portman loses her cool and in a fit of rage.
"This is either a Malick-induced fever dream or a Stefon night club sequence. It. Has. Everything. Michael Fassbender, the Lizard Man carrying a bookbag, and Natalie Portman not having any of it."
"This You, Me and Dupree reboot hits a boiling point as Portman's character finally gives up on her husband (Fassbender), whose former rock band bass player won't move out of their house."
"Terrence Malick puts a new spin on romantic dramas when the love triangle between Fassbender, Portman, and Lizardman heats up. Portman's character must choose between the passion she feels for Lizardman, and the normal life she can have with Fassbender's boring cubicle-dweller. Will she risk it all to have the excitement and love she yearns for, or will she play it safe?"
"I'm sensing Natalie Portman's character is becoming overly concerned about whether or not Lizard Man is being exploited in the latest TLC reality show, filmed by Michael Fassbender"
"Things are finally looking grim for the Malick's road tripping trio, who only have a few hours left before Lizardman's big wedding day."
"In this scene, Portman's character has lured the Lizardman out of New York with her feminine wiles. But it doesn't take long before he spots Fassy, the most handsome man in the world who's just finished making out with Portman's tiny perfect face, and the Lizardman realizes his beautiful temptress has played him for the fool. He's just there to carry her heavy backpack."
Now it's your turn: What the heck is happening in this scene? Tell us in the comments!
Follow Matt Patches on Twitter @misterpatches
[Photo Credit: FameFlynet]
More:
Hillary Clinton Gets an Eyeful … of Christina Aguilera's Cleavage
Fassbender Filming a Scene with Gosling? Internet Hangs in the Balance — PHOTO
Pizza Vs. Burritos: The Pop Culture Election — Round 2
From Our Partners:

'Prometheus' Giveaway & Actors' Screen Tests Revealed!
(Moviefone)

(Moviefone)