What To Expect From 'Mockingjay'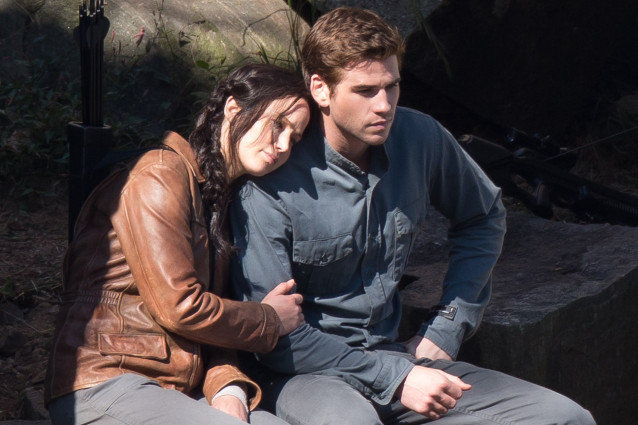 Splash News
Yes, The Hunger Games: Catching Fire is still in theatres, but we're already ready for more (especially as that ending was one helluva cliffhanger). What can we look forward to in the next installment of the trilogy quartet?
Less Josh Hutcherson – we know from the books that Peeta's only really in the second half of the story (fans are already speculating that Mockingjay Part I will end on [SPOILER ALERT] Hijacked Peeta's hands closing on Katniss' throat). Jennifer Lawrence also mentioned that she misses having Josh Hutcherson around on set. Sorry Peeniss shippers!
More Liam Hemsworth – now, Everthorne shippers, on the other hand, are in luck – Gale's going to be around a lot more in this movie. In fact, we're all in for a treat, as Hemsworth has given us such thrilling and nuanced performances in the past! (Sarcasm is hard to get across in print, isn't it?).
More Sam Claflin – this one, I'm genuinely excited for (and for more than just superficial reasons, ahem). As is director Francis Lawrence – in an interview with TIME Magazine, he gave credit where credit was due in terms of Sam Claflin re: physical appearance and level of charmingness, but noted that what he really liked was "the emotional side of him." We'll also get some more of Finnick's backstory, something that was missing from Catching Fire.
(Even) more emotional turmoil – Katniss' severe PTSD is one thing on the page in first person narrative, and it's almost certain to be quite another on the big screen: we're guessing that it's going to be fascinating to watch with the Lawrence2 acting/directing team does with all the heavy themes. In his recent Reddit AMA Francis Lawrence even noted that one of the biggest challenges of the film will be "tracking her [Katniss'] emotional trajectory." Judging from Catching Fire, we know they'll do it with aplomb, no matter how difficult.
Bonus: Jennifer Lawrence will sing! (?) – when asked if Katniss will be singing "The Hanging Tree" in Mockingjay, Francis Lawrence coyly demurred, but noted that it was "one of my [his] favorite scenes in the book."