Win A Prize-Pack In Our 'Out of the Furnace' Giveaway!
From criticially acclaimed director Scott Cooper comes the gripping thriller Out of the Furnace. Russell Base lives an unfortunate life: he works a dead-end blue collar job at the local steel mill during the day, and cares for his terminally ill father by night. When Russell's brother Rodney returns home after serving time in Iraq, he is lured into one of the most ruthless crime rings in the Northeast and mysteriously disappears. When the police fail to crack the case, and with nothing left to lose, Russell takes matters into your own hands. The impressive cast, including Christian Bale, Woody Harrelson, Casey Affleck and Forest Whitaker deliver a gritty drama about family, fate, circumstance and justice. 
In honor of the opening of this film, which hits theatres on December 6, we're giving away a Vintage 1910 Heavy Bag kit! 
Prize:
Everlast Boxing Gloves 
Punching Bag Set 
Branded items that tie into the film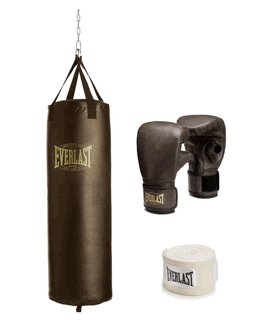 It's SUPER easy to enter, all you have to do is… 
1. Follow Hollywood.com on Twitter at @Hollywood_com starting Thursday, November 21, at 12 PM ET.
2. Retweet: "RT and FOLLOW to win an 'Out of the Furnace' prize pack in our #OutoftheFurnaceGiveaway http://hllywd.co/18T6K4M" 
The contest runs from 12 PM ET Thursday, November 21 until 11:59 p.m. ET on Friday, December 6. 
Out of the Furnace hits theaters December 6, 2013.