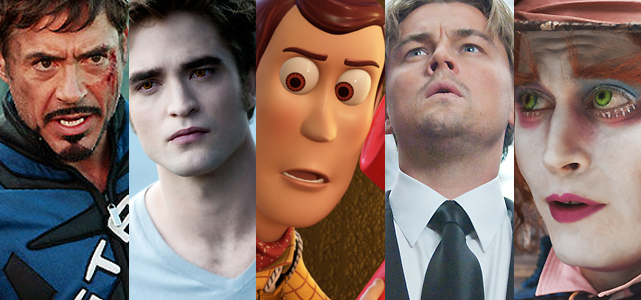 We project full year revenues to fall just short of 2009's record $10.6 billion and land with $10.556 billion.  This is only the second time in box office history that full year revenues will top the $10 billion mark.  However, the last time that revenues fell short of the prior year was in 2008 when they dipped 0.52% from 2007.  More telling is that attendance this year will see a 5.36% downturn vs. 2009 giving us the biggest percentage drop year over year since 2005 when attendance fell a whopping 8.14% vs. 2004.  
This will also be the second lowest attended year of the decade with only 2008 showing lower attendance from years 2000 to 2010.  With the summer of 2010 being the lowest attended in over a decade and the current holiday season experiencing seven consecutive "down" weekends vs. last year and a 20% attendance deficit, it is not surprising that even with higher average ticket prices that full year revenues and attendance have fallen short of 2009.
On the bright side is that 2010 delivered some truly fine films in both the blockbuster category and particularly in the later part of the year with the specialized and awards-style films that have drawn critical raves and effectively created the all-important commodity of audience goodwill.
Perhaps the best news is that both 2011 and 2012 look to deliver some of the best and highest grossing films that we have seen during the 2000's and that the current down trend at the box office will soon be a thing of the past with 2010 being looked upon as merely a transitional year in a very cyclical business.   
Notes:
Hollywood.com Box Office uses a strict calendar year for our comparisons running January 1, 2010 through December 31, 2010.
Absolute final figures will obviously not be known until this week's grosses including Friday, the 31st have been officially tallied and factored into our totals.
The Top Five Grossing Movies of 2010 (N. American B.O.)
TOY STORY 3 - $414,984,497                 
ALICE IN WONDERLAND - $334,185,206 
IRON MAN 2 - $312,057,433  
THE TWILIGHT SAGA: ECLIPSE - $300,523,113  
INCEPTION - $292,511,473 
DOMESTIC FULL-YEAR BOX OFFICE SINCE 1990
2010 projected    $10,556,000,000
2009    $10,600,000,000
2008    $9,630,000,000
2007    $9,680,000,000
2006    $9,300,000,000
2005    $8,960,000,000
2004    $9,450,000,000
2003    $9,300,000,000
2002    $9,320,000,000
2001    $8,370,000,000
2000    $7,750,000,000
1999    $7,500,000,000
1998    $6,950,000,000
1997    $6,400,000,000
1996    $5,900,000,000
1995    $5,500,000,000
1994    $5,400,000,000
1993    $5,200,000,000
1992    $4,900,000,000
1991    $4,800,000,000
1990    $5,100,000,000