Audiences get very 'Paranormal' at Box Office!
Paramount Pictures gets very Paranormal with the top two slots at the weekend box office.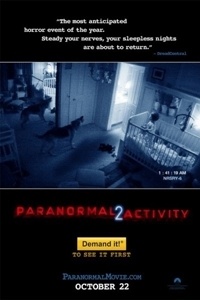 'Paranormal Activity 2' gives Paramount another huge weekend with a whopping $41.5 million!  In the wake of the success of 'Jackass 3D' which shattered all expectations and has already become a 3D fall season hit with close to $90 million, younger audiences are confounding the experts and showing up in unexpected droves to theatres.  The original film, 2009's "Paranormal Activity" which had a reported budget of $10,000 to $15,000 and a worldwide gross pushing $200 million, is the most profitable movie of all time and therefore predictions were all over the map for this latest installment.  Both a banker's and moviegoer's delight, the first installment had its first wide release exactly one year ago in 1,945 theatres and a weekend take of $21.1 million.  'Paranormal 2' exceeded all expectations with 3,111 theatres and an IMAX experience that gave the film a $2.5 million boost (an amazing feat considering that IMAX was a last minute addition to the release).  
Only supernatural powers were able to dislodge the pure box office genius of the "Jackass" boys from the top spot after an astonishing $50.3 million debut last weekend.  With summer style mid-week grosses in the $3 to $4 million range and a $62 million total heading into the weekend, Paramount's 'Jackass 3D' had massive momentum and even with a 57% drop managed a $21.6 million gross and now has a franchise topping $87.14 million in the bank.  The jocular juggernaut will most certainly top the $100 million mark within the next week and be the first ever $100 million grossing film for the "Jackass" crew.
Summit's 'Red' starring Bruce Willis and Morgan Freeman earned a surprisingly strong $15 million after a solid debut last weekend despite being overshadowed by the antics of Johnny Knoxville.  A killer second weekend hold of just 31% gave this one an impressive showing and proves that great word-of-mouth is propelling the film.  Now with $43.5 million, "Red" is assured continued success at the Fall season box office.
After a tremendous six theatre debut last weekend, Warner Bros.' 'Hereafter' expanded into wide release on Friday and is following the typical pattern of success for a Clint Eastwood production.  As director, Eastwood is a brand that represents quality and audiences have made slow burn hits out of 'Million Dollar Baby' and 'Mystic River.' Both films opened in a handful of theatres and went on to first wide release weekends in the $10 to $12 million range and then built upon tremendous word-of-mouth to wind up with grosses of $90 to $100 million.  Given the star power of Matt Damon, 'Hereafter' is demonstrating a similar trajectory with a weekend gross of $12 million and a likely strong long term impact on the box office as the critical and audience buzz builds in the coming weeks.
Speaking of strong holding power, Sony's 'The Social Network' had an unbelievably low 29% fourth weekend drop and added another $7.3 million to its steadily building revenues.  The critical favorite is now approaching the $75 million mark in domestic revenue.
The term "legs" was tailor-made for Disney's 'Secretariat' which has obviously been getting continued support from both audiences and the studio with a foal-sized drop of just 26% in its third weekend of release.  Another $6.9 million gave the film a strong showing in the final stretch of this weekend's box office derby with a domestic cumulative racing toward $40 million.
Year-to-date revenues are at $8.65 billion at the end of the weekend and are running 3.36% ahead of last year while attendance is still lagging by 2.15%.  Fall-to-date box office tells a somewhat depressing story with revenues off by 6% vs. last year and attendance running 11% behind last season.
Top 10 Movies – Weekend of October 22, 2010 (Estimates)
Movie
Weekend
Total
1
Paranormal Activity 2 (R)
$41.5 M
$41.5 M
2
Jackass 3D (R)
$21.6 M
$87.1 M
3
Red (PG-13)
$15.0 M
$43.5 M
4
Hereafter (PG-13)
$12.0 M
$12.3 M
5
The Social Network (PG-13)
$7.3 M
$72.9 M
6
Secretariat (PG)
$6.9 M
$37.4 M
7
Life As We Know It (PG-13)
$6.2 M
$37.6 M
8
Legend of the Guardians: The Owls Of Ga'Hoole (PG)
$3.2 M
$50.1 M
9
The Town (R)
$2.7 M
$84.6 M
10
Easy A (PG-13)
$1.8 M
$54.8 M