5 Coolest Band Cameos In Movies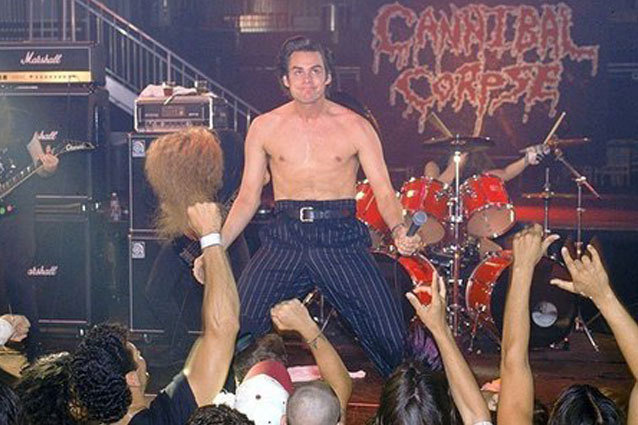 Warner Bros.
There's nothing like a decent soundtrack to bump up even a cruddy film to cult status. The savvy band cameo, too, is a black art invoked to let you a director knows their hardcore from their grindcore and/or is "down with the kids." These five movies take this tactic to rocking heights.
 "All-righty then!" Who can forget Jim Carrey in the brutal Cannibal Corpse moshpit in Ace Venture: Pet Detective (1994)?
Repo Man (1984) had an innovative hardcore punk soundtrack that's British director Alex Cox's love letter to '80s LA. Fun fact: Zander Schloss, who plays Kevin the Nerd in the movie, joined the Circle Jerks on bass after the band's cameo in this sublimely bats**t cult classic. The Circle Jerks (who Emilio Estevez's Otto "can't believe he used to like") sing a lounge version of "When The S**t Hits The Fan."
In Bill and Ted's Bogus Journey (1991), Bill S. Preston, Esq. and Ted "Theodore" Logan return for more time-travelling high jinks. Bring on a most excellent Battle of the Bands storyline and a reinforced heavy metal soundtrack! Megadeth penned a song for the movie, KISS features heavily and, more impressively, Faith No More's "Big" Jim Martin appears as a lecturer (from the past, obviously). But most righteous of all is the Primus cameo where Les Claypool and co. perform "Tommy the Cat" from then-current album Sailing the Seas of Cheese.
In Empire Records (1995), some fourth wall/ space brownie alchemy means stoner Mark gets to jam on TV with freaky metal prankers GWAR. "Hey Mark, you play a mean guitar, man! It's a shame you must diiiiiiie!" 
In Michelangelo Antonioni's Swinging London classic Blow-Up (1966), The Yardbirds' Jimmy Page, Keith Relf and Chris Dreja perform "Stroll On" after the director couldn't get his first choice (Syd Barrett's Pink Floyd) for the pop-art rock band cameo. Still, who can forget Jeff Beck smashing his guitar with iconic rock 'n roll swagger?
More:
29-Year-Old Teens of Hollywood
5 Worst English Accents In Movies
6 Female Superheroes Who Need Their Own Movies

---
From Our Partners:


40 Most Revealing See-Through Red Carpet Looks (Vh1)


15 Stars Share Secrets of their Sex Lives (Celebuzz)