'The Social Network' tops Box Office again!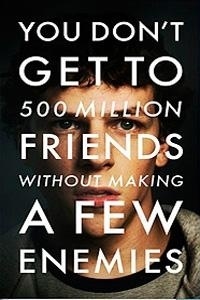 A real horse race at the box office this weekend as three new wide releases joined the crop of films currently in the marketplace.  Last weekend's chart-topper, Sony's "The Social Network" had performed well mid-week with grosses in the $2 million range as heavy interest in the film continued after great reviews and strong word-of-mouth. This solid second weekend performance of $15.5 million represented a mere 31% drop for the possible Oscar contender.  Continued interest in the film itself and the many noteworthy performances by the ensemble cast will keep this one in the top ten mix for many weeks to come.  The film is now closing in on the $50 million mark after just ten days of release.
As for the newcomers, Warner Bros.' romantic comedy "Life as We Know It" took the number two spot with $14.6 million.  Women were the obvious target for "Life" given the Katherine Heigl, Josh Duhamel pairing and the themes of romance, relationships and child rearing. 
At number three with $12.6 million, Disney's PG-rated inspirational horse racing saga "Secretariat" boasts a both a solid cast and a faith-based storyline that drew families interested in a wholesome and inspiring story appropriate for all ages.
Check out this "Secretariat" themed comic strip from Francesco Marciuliano.  Francesco writes the internationally-syndicated comic strip "Sally Forth" and the webcomic "Medium Large." He was the head writer for the PBS series "SeeMore's Playhouse," for which one of his episodes won two 2007 Daytime Emmys. He currently writes for the Onion News Network.
Box Office spotlight on horse racing movies: "Seabiscuit" from Universal opened with $20.8 million over the weekend of July 25, 2003, came in fifth in the weekend derby and went on to earn an impressive $120.2 million.  The film starred Tobey Maguire and Jeff Bridges.
In 2005 "Dreamer: Inspired by a True Story" debuted on October 21 in second place with a weekend gross of $9.2 million and a final domestic total of $32.7 million.  The film starred Kurt Russell and Dakota Fanning.
The 3D and IMAX enhanced "Legend of the Guardians: The Owls of Ga'Hoole" swooped in with $7.01 million in fourth place.  The film realized a mere 36% third weekend drop and has clearly benefited from being virtually the only animated family film in the multi-plex and thus the owls have generated $39 million plus in total revenue to date.
Also opening this weekend was Universal's serial killer horror entry "My Soul to Take" directed by the iconic Wes Craven who delivered the scares in 3D and tried to give audiences a "jump out of your seat" experience.  Horror films have had a tough go at the box office lately, and this was no exception with a fifth place debut of $6.9 million.
At number six with $6.35 million and a tiny fourth weekend drop of 35% is Warner Bros.' acclaimed "The Town" which is the top performing film of the fall season thus far with close to $74 million in domestic revenue. 
Marking what would have been John Lennon's 70th birthday on Saturday, October 9, Weinstein Co.'s "Nowhere Boy" celebrated the occasion with the release of this dramatization of Lennon's early life and career.  Current re-releases of the entire Lennon solo catalogue and revitalized interest in the influential musician and activist, gave "Nowhere Boy" a solid specialized debut this weekend with $56,065 in four theatres (2 NY/2 LA).
In the five weekends since Labor Day only one has been "up" vs. the comparable weekend a year before.  Year-to-date revenues stand at $8.3 billion, 3.43% ahead of last year while attendance is still lagging by just over 2%.
Weekend Box Office
Top 10 Movies – Weekend of October 8, 2010 (Estimates)
Movie
Weekend
Total
1
The Social Network (PG-13)
$15.5 M
$46.1 M
2
Life As We Know It (PG-13)
$14.6 M
$14.6 M
3
Secretariat (PG)
$12.6 M
$12.6 M
4
Legend of the Guardians: The Owls Of Ga'Hoole (PG)
$7.0 M
$39.4 M
5
My Soul to Take (R)
$6.9 M
$6.9 M
6
The Town (R)
$6.4 M
$73.8 M
7
Wall Street: Money Never Sleeps (PG-13)
$4.6 M
$43.7 M
8
Easy A (PG-13)
$4.2 M
$48.1 M
9
Case 39 (R)
$2.6 M
$9.6 M
10
You Again (PG)
$2.5 M
$20.7 M