WB Lining Up Sequels For 'Clash' and 'Center Of The Earth'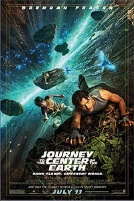 Source: Deadline New York
After cleaning up domestically and internationally, Warner Bros. is ready to move forward with sequels to 2008's Journey To The Center Of The Earth and this month's Clash Of The Titans, says Deadline New York.
The studio, along with co-producer Legendary Pictures, are moving ahead with a sequel to Clash, which the studio would like as early as spring, 2012. However, they will make the journey without director Louis Leterrier, who will not return for an encore. Sam Worthington will reprise his role as Perseus, as well as most every other actor/character that survived. Greg Berlanti will write the story and the studio is already scouring the agencies for a writer and director who can get the movie going before Worthington makes Avatar 2.
Simultaneously, New Line and Walden Media are readying a sequel to the Brendan Fraser starrer Journey To The Center Of The Earth, but are doing so against the wishes of Fraser, who would rather wait until director Eric Brevig finishes the Warner's 3D Yogi Bear film. The studio is aiming for a fall 2011 release, which would mean that another director would have to be hired as soon as possible. Though his loyalty to Brevig is commendable, Fraser may have to bite the bullet and get on board if he wants to collect his eight figure paycheck for the proposed sequel.
Journey collected $242 million worldwide in 2008, while Clash's total is currently just shy of $390 million globally and still counting.