'A Late Quartet': Christopher Walken Talks Moving On from Playing 'Bizarre People'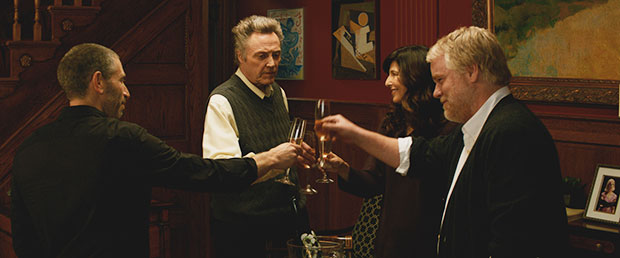 For years now, decades even, Christopher Walken has maintained a reputation in Hollywood for playing characters who are, to put it lightly, a bit off. When we spoke to the cinematic legend about his recent turn in the film A Late Quartet, he remarked about this pattern that has followed his career. "I've played a lot of bizarre, eccentric people," Walken said. "People with odd things on their minds." But his newest endeavor could mark a turning point for the actor.
The movie, a tender drama directed by feature newcomer Yaron Zilberman, hands Walken a more levelheaded, sensitive character — the sort he hopes to make a habit of playing at this stage in his life. "I think this guy is very human," Walken said of his Quartet character Peter Mitchell, an accomplished cellist whose recent diagnosis with Parkinson's Disease forces him to give up performing. "Almost, you could say, the dad in this story. As I get older, a nice thing is happening. I'm starting to get parts for uncles, grandfathers, fathers. It's kind of a new territory for me. I hope it keeps happening."
The time-tested performer is encouraged by the new challenge. "I always look to [the question], 'How do you stay viable?' Being an actor is wonderful, but most actors don't work … The roles of Screen Actors Guild or Actors Equity, it's something like 98% are unemployed. So that if you're working for any reason, you're first of all lucky. You have to be good, but you have to be a little lucky, too."
And it was not only the "new territory" of playing this character that attracted Walken, 69, to Zilberman's script, but the story surrounding the roles of his costars (Philip Seymour Hoffman, Catherine Keener, Mark Ivanir, and Imogen Poots) on the whole. "For me, it was the story of the characters. It's a very insular story, really," Walken said. "It's about these five people — the implications of a change in the life of one of them and how it affects everybody."
But one specific element of this movie that seems to have really spoken to Walken is its relationship with music. Although Walken himself has limited experience with musical instruments ("When I was a kid, I took the piano lessons, and I took some guitar lessons. But I never got any good at it. My hands are just not suited for that."), it is his love of music and his skill at the art of dance ("My feet work!"), that connected him to these particular themes in A Late Quartet.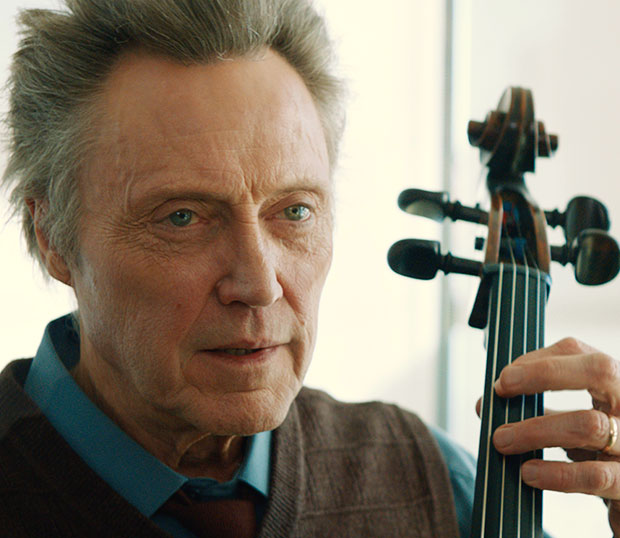 "Music is life," Walken proclaimed. "The way we live has as much to do with rhythm as it has to do with logic." And to the actor, the particular genre of string music exhibited in the movie is of especial appeal. "Even when I was a little kid, I loved classical music. I still do."
Walken considers music a particularly invaluable tool in the venue of cinema. "Music is very important in the movies … They say that the best movie music is the kind you don't notice. I'm not so sure about that." He got to thinking about a few examples of his favorite examples of music in film, highlighting, "the way [Martin] Scorsese, for instance, uses contemporary music." Walken also doesn't forget about the classics: "Let's face it — Gone with the Wind is thrilling. There are many examples. I love movie music. Some of the great composers of that time… you don't have to watch the movie, just listen to people like [Erich Wolfgang] Korngold and Carl Davis. Music is part of life."
And Walken connects the performance of music, or performance of any sort at all, to that of acting, which is where he compromised his A Late Quartet character with his own life experiences. "I think the big equation with that would be between being in a string quartet and being an actor … the performing aspect. When you do a play, or you do ballet, opera, any kind of performance where people buy tickets and sit and watch you, that it's a particular kind of thing. There's an element of all of these things that doesn't get mentioned: the audience."
The actor's relationship with his audience extends far beyond what you might expect. "They are always the other characters in a play," he said. "They're a big part of the show. Dealing with that is something that performers particularly understand. I think, for me, my experience on the stage, in front of cameras, and all that, was very equivalent to having to perform music."
"These quartet people are performers," Walken continued. "I may not have understood how to play the cello, but I know what being a performer is. The relationship with the audience, who is always the other character. The people buy a ticket, they expect something — it's expensive, they made an effort to get there. You have to be your best. You have a given amount of time to do what you do best. And that's something particular to people who perform for a living."
This keen understanding and appreciation of performance is evident in both the cast members who make up A Late Quartet and in the film's director. "You're going to have to hand it to Yeron Zilberman on many levels," Walken said. "He's remarkable in many ways. He did what really good directors do: they cast well. And it's been said, if you get the right actors for the right parts, you don't have to do a lot with them. You hire them and sort of let them loose. And all good directors do that. He was also very generous about his own learning curve. He let the actors contribute a lot."
Clearly, Walken has a special flare and passion for performance, and acting something he wants to continue doing for many years to come. "In Europe, actors keep going until they drop," Walken declared with admiration. "My favorite actor story is about John Gielgud. He was 96 and they wanted to throw him a big party. And he said [he] couldn't come because I was on location making a movie. I think that's wonderful for an actor to just keep going."
A Late Quartet is currently playing in select theaters.
[Photo Credit: RKO Pictures (2)]
More: