A Mega Box Office Weekend is Here!
The Holiday Movie Season officially starts as Paramount Exerts "mind" control over family audiences while Downey, Jr. gets his due and Tyler Perry releases his tenth film in five years.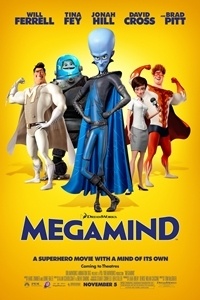 Paramount's release of 'Megamind,' Dreamworks' animated 3D film featuring the voices of Will Ferrell and Brad Pitt is set to kick off one of the most important movie-going seasons with an other-worldly bang.  Opening in a whopping 3,944 theatres and 195 IMAX screens, the R-rated domination of the top five box office is about to come to an end as the PG-Rated film is set for a debut in the high-$40 million range.  Earlier this year Dreamworks' 3D/IMAX release of 'How to Train Your Dragon' performed well in its non-Summer time-frame with an opening weekend gross of $43.7 million.  'Megamind' with its good vs. evil premise, sci-fi feel and considerable star power should be able to exceed 'Dragon's' performance.  
Warner Bros.' 'Due Date' creates the unlikely comedic pairing of Zach Galifianakis and Robert Downey, Jr. and thus a match made in box office heaven.  In this buddy road trip movie, 'The Hangover' director Todd Phillips combines his twisted sense of humor with actual character development to great effect.  'The Hangover's' $45 million opening weekend surprised analysts and the film went on to become the highest grossing R-rated comedy of all-time.  However, Phillips' average opening weekend is around $20 million, yet a much better than average debut in the mid-$30 million range is likely for his latest comedy, which also stars Jamie Foxx and Michelle Monaghan and opens in 3,355 theatres.
The third newcomer to the weekend's festivities is Tyler Perry's 'For Colored Girls' from Lionsgate. Perry is a true movie mogul, having created an incredibly lucrative film-making empire in just five years. The stats tell the tale: Nine movies totaling nearly $500 million in domestic box office, an average opening weekend gross of $24 million and an average total domestic gross per film of $53.5 million make Perry one of the most consistently successful filmmakers of all-time.  With 'For Colored Girls,' his 10th film, Perry makes his way into dramatic territory and with Lionsgate making this an event movie for African-American women, a gross in the mid-$20 millions or even higher is in the cards for the film which opens in 2,127 locations.
Fourth and fifth place will see a battle between three veterans of the marketplace with Halloween weekend's number one film, Lionsgate's 'Saw 3D,' the consistently performing word-of-mouth action movie 'RED' from Summit and Paramount's horror juggernaut 'Paranormal Activity 2' all vying for grosses in the $6 to $8 million range.
Also opening in just four theatres is Fox Searchlight's hotly anticipated critic's favorite '127 Hours' starring James Franco as real life mountain climber Aron Ralston and directed by 'Slumdog Millionaire's' Danny Boyle.