'Hop' hops right into first place this weekend.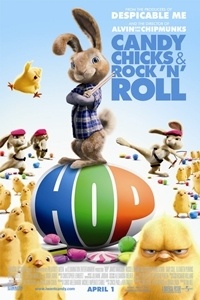 Universal's animated Hop leads the weekend with a much better-than-expected $38.1 million.  Suddenly a marketplace that was devoid of family animated fare just a couple of months ago has seen the genre multiply well, like rabbits with four such films in theaters this weekend.  British sensation Russell Brand is the voice of E.B., the teenage wannabe rockstar son of the Easter Bunny.  With a charming ad campaign, Brand's brand recognition and Easter just 3 weeks away, Hop easily leapt over the competition this weekend.
Also debuting this weekend is Source Code in second place from Summit Entertainment with a weekend haul of $15 million.  An action thriller starring Jake Gyllenhaal and Michelle Monaghan, the film tells the story of a soldier who is part of a mission to find the bomber of a Chicago commuter train.  Only trouble is he has woken up in the body of an unknown man.  Given Gyllenhaal's star appeal and a terrific trailer that highlighted the twisted nature of the plot, Source Code had a solid weekend.
Insidious from Film District had a stronger-than-expected weekend as the fantasy/thriller grabbed the third spot with $13.5 million.  The elements of horror within the story were effectively highlighted in the marketing campaign and that paid off with the very loyal fan base of the genre who showed up in big numbers.
Fox's Diary of a Wimpy Kid: Rodrick Rules continues to draw kids and parents to the multi-plex even in the face of continued competition from family-friendly fare such as Hop.  Another $10.2 million gives last weekend's number one film a domestic total approaching $40 million.
Relativity Media's Limitless seems to have limitless staying power as the film remains a consistent performer topping the mid-week chart and heading into its third weekend with solid momentum.  Its impressively small second weekend drop of only 20% reflected great word-of-mouth and this weekend was strong as well with a small 38% drop.  Star and producer Bradley Cooper should be very pleased by the end of the weekend when the revenue total for the film will reach $55 million.
Outside of the Top 5, Lionsgate's The Lincoln Lawyer earned another $7 million against the smallest drop of any film in the Top 12 at only 34%.  The word-of-mouth favorite has earned nearly $40 million in domestic box office.
Six consecutive down weekend at the box office with year ago comparisons giving us yet another sucker punch when How to Train Your Dragon had a $43.7 million debut and year-to-date revenue stood 8.90% ahead of 2009.  Currently year-to-date revenues are running 20.3% behind last year at this point.
Weekend Box-Office Estimates
Top Movies – For Weekend of April 1, 2011
    Movie     Weekend Gross     Total to Date
1     Hop (PG)     $38.1M     $38.1M
2     Source Code (PG-13)     $15.05M     $15.05M
3     Insidious (PG-13)     $13.5M     $13.5M
4     Diary of a Wimpy Kid 2: Rodrick Rules (PG)     $10.2M     $38.3M
5     Limitless (PG-13)     $9.4M     $55.6M
6     The Lincoln Lawyer (R)     $7.0M     $39.6M
7     Sucker Punch (PG-13)     $6.1M     $29.9M
8     Rango (PG)     $4.6M     $113.8M
9     Paul (R)     $4.3M     $31.9M
10    Battle: Los Angeles (PG-13)     $3.5M     $78.5M