Supernatural Love Story 'Beautiful Creatures' Looks Positively Enchanting — TRAILER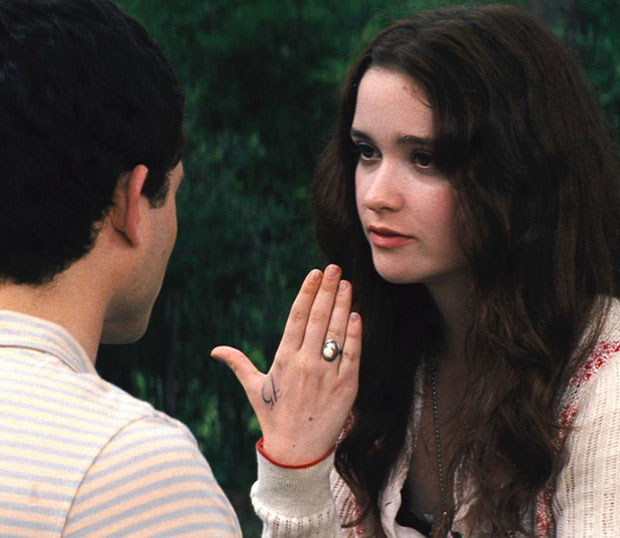 As if high school wasn't hard enough, try sitting through homeroom, hearing others gossip about you while trying to contain emerging witch powers that are pulling you towards the dark side… Yeah, on second thought, high school wasn't so bad for you, huh? Unfortunately for young witch— or "caster" — Lena (Alice Englert), it is.
A new, longer trailer for the movie adaptation of Kami Garcia and Margaret Stohl's YA novel Beautiful Creatures just hit the web, and the battle between good and evil casters looks dark and extremely fun (it helps to put the haunting vocals of Florence + the Machine behind the supernatural footage). Focusing on Lena's upcoming 16th birthday when her powers will be claimed either for the light or dark, the movie brings a whole new definition to family feud. Lena's cousin Ridley (Emmy Rossum) chose the darkness on her 16th birthday, and the entire family is caught up in whether Lena will choose light or dark, because apparently she is going to be super strong and could tip the scales in some big war against humans. And Rossum kills it as a vampy siren caster, all sassy and filled with attitude. If I was in Lena's position, I'd choose the darkness just to hang out with this cool older cousin. Priorities, guys. Plus, her eyes. Her dress. So cool!
And there's a love story at the core of the movie too: Lena meets Ethan (Alden Ehrenreich), a small-town guy who dreams of something bigger, and they instantly fall for each other. This is somehow a bad thing for the good casters, because it will lead Lena further into temptation of choosing the darkness? Maybe? You'd think young love would be a good thing.
And can I just say how excited I am for a supernatural tale set in the south? I can't get enough of those southern accents. It puts a campy feel on what already looks like a fun, enjoyable film.
Also starring Viola Davis and Emma Thompson, Beautiful Creatures casts its spell on theaters on Feb. 13, 2013. Check out the trailer below:
Follow Sydney on Twitter @SydneyBucksbaum
[Photo Credit: Warner Brothers]
More:
Emmy Rossum in 'Beautiful Creatures': Part Effie Trinket, Part Siren, & Three Parts Sexpot
'Beautiful Creatures': Just in Time to Feed Your 'Twilight' Thirst — TRAILER
Viola Davis Lands Roles in 'Ender's Game,' 'Beautiful Creatures'

'Breaking Dawn — Part 2' Star Peter Facinelli Moves On In New York; 'Twilight' Actor Grabs a Bite With Actress Jaimie Alexander (EXCLUSIVE PHOTOS & DETAILS)
(Celebuzz)