'The Dark Knight Rises' Infographic: What's Batman Thinking?

Here's a testament to The Dark Knight Rises: Even one and a half weeks later, we're still thinking about it. Whether it's debating the blockbuster's crazy ending, juggling its political overtones, mulling over where the story goes now or predicting director Christopher Nolan's Oscar chances, TDKR is (and will probably be for the rest of 2012) a hot topic.
While we have the Caped Crusader and his sprawling universe of characters on our minds, we here at Hollywood.com felt it imperative to ask, "what's on Batman's brain?" For all the action and danger Nolan conjured up for his Dark Knight trilogy, for the compelling performance delivered by Christian Bale over three movies, we as the audience never really got a look into the head of our main character. He's an ordinary guy after all — so what are the little things Bruce Wayne obsesses over in the moments he's not clobbering bad guys?
Finally, all is revealed.
Check out this exclusive infographic that pulls back the curtain on Batman's inner monologue, a swirling set of thoughts that show off a new side of the famed superhero. Click to enlarge: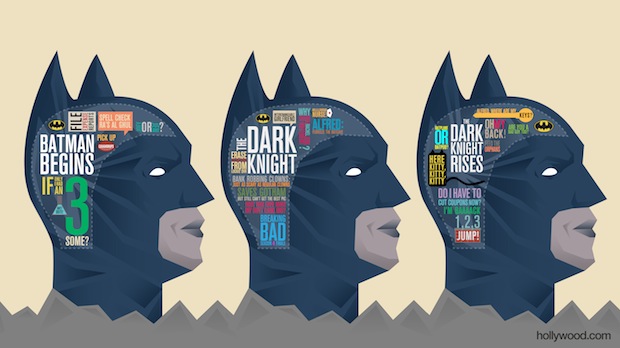 More:
More Batman!: 'The Dark Knight Returns' Animated Trailer Unleashed
'The Dark Knight Rises': Why Anne Hathaway's Catwoman Is the Best One Yet
Burt Ward on Robin: What It Takes to Bring Batman's Sidekick to Life