The Devil Gets His Due at the Box Office!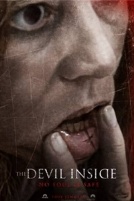 Paramount Insurge Pictures R-rated "The Devil Inside" was the only wide release newcomer this weekend and shocked everyone with a massive and much better-than-expected $34.5 million. Capitalizing on the success of their "Paranormal Activity" franchise, Paramount struck pay dirt again with this 'based on a true story" horror entry.
Paramount's "Mission: Impossible- Ghost Protocol" will maintain its firm grip on the box office heading into this, its fourth weekend, with over $150 million in Tom Cruise powered dollars. Since its release, the film has generated $54 plus million worldwide in and $3.4 million this weekend in IMAX in North America. A mere 30% drop gave the film a solid $20.5 million for the weekend and $170.2 million to date in North America.
Warner Bros.' "Sherlock Holmes: Game of Shadows" will also enter its fourth weekend with solid momentum as it closes in on the $250 million mark at the worldwide box office. A consistent hold on the number two spot in the mid-week box office race placed it in the number three spot for the weekend with $14 million and $157.4 million in North America by Sunday night. The film is on track to ultimately earn an impressive $185 million to $190 million in North American revenue.
"The Girl With the Dragon Tattoo" from Sony has shown itself to be a steady performer after a modest start over Christmas weekend as it continues to build an audience. Having earned over $75 million thus far in North America, the R-rated thriller is showing great momentum with solid word-of-mouth and earned $11.3 million for the weekend. The smallest weekend over weekend drop (just 23%) of any film in the Top 12 shows that the David Fincher thriller continues to be a hit with sophisticated audiences..
Fox's PG-rated "Alvin and the Chipmunks: Chipwrecked" continues to be the "go to" movie for the family audience and proves it as it crossed the $100 million mark on Wednesday. A gross of $9.5 million put the little guys in the top five once again with a North American total of $111.6 million to date.
A great weekend with box office up a whopping 29% vs. the comparable weekend a year ago when "True Grit" led the weekend with $14.6 million. This is the first "up" three-day weekend since the weekend before Thanksgiving.
Weekend Box-Office
Top Movies for Weekend of January 6, 2012 (Estimates)
Movie Weekend Gross Total to Date
1 The Devil Inside (R) $34.5M $34.5M
2 Mission: Impossible – Ghost Protocol (PG-13) $20.5M $170.2M
3 Sherlock Holmes: A Game of Shadows (PG-13) $14.0M $157.4M
4 The Girl With the Dragon Tattoo (R) $11.4M $76.8M
5 Alvin and the Chipmunks: Chipwrecked (G) $9.5M $111.6M