The Other Guys tops weekend box office
Sony's "The Other Guys" gives Will Ferrell his second biggest opening weekend ever with a bigger than expected $35.5 million as Warner Bros.' "Inception" continues strong in its fourth weekend of release and Disney's "Step Up 3-D" draws the younger crowd.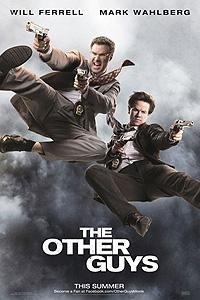 Comedy has been very, very good to Mark Wahlberg this year with a supporting role in the early 2010 comedy smash "Date Night" and now a starring role in the buddy cop comedy "The Other Guys" which opened with a stronger than anticipated $35.5 million.  This gives co-star Will Ferrell his second best debut ever after only Sony's own "Talladega Nights: The Ballad of Ricky Bobby" and its $47 million 2006 opening.  Great reviews, strong marketing and terrific premise and stars made this one an early August hit.  Audiences craving lighthearted fun certainly found what they were looking for and the strength of Saturday's gross is a testament to the positive word-of-mouth that the film has been receiving.
Warner Bros. has enjoyed almost complete domination of the number one spot since the release of their summer mega-hit "Inception" starring Leonardo DiCaprio and directed by the great Christopher Nolan.  With a fourth weekend gross of $18.5 million, a drop of just 33% and $227.6 million in just 24 days, the film has enjoyed simultaneous critical and popular success, thus proving that a smart and challenging action film in the hands of a master director can find favor with summer audiences.
Of course audiences are always looking for variety and certainly younger audiences found what they were looking for with Disney's "Step Up 3-D."  The film follows in the very capable dance steps of 2006's "Step Up" which debuted with $20.7 million and 2008's "Step Up 2 the Streets" which opened with $18.9 million.  The 3-D component was an obvious draw for the young dance crazed crowd and added some spring to the film's box office step and landed the film at number three with $15.8 million.
At number four, Sony's "Salt" has also been generating very "Inception"-like word-of-mouth and critical reviews since its debut two weeks ago and therefore posted a very respectable third weekend haul of $10.9 million.  Angeline Jolie is thoroughly convincing as Evelyn Salt and is backed by an incredible supporting cast including Liev Schreiber, Chiwetel Ejiofor and even the great Andre Braugher who makes an all too brief appearance.  A terrific film that has earned $91.8 million to date and will cross the $100 million mark within the next week.
The comedy pairing of Steve Carell and Paul Rudd in Paramount's "Dinner for Schmucks" took the fifth spot with $10.4 million against a 56% second weekend drop.  With $46.6 million after ten days of release, the film which debuted in the second spot at the box office last weekend has found favor with its core audience of fans of Rudd and Carell, but may have suffered a bit from very mixed reviews.
Universal's "Despicable Me" has been another shining star of the box office since its opening five weeks ago and posts yet another solid week at the nation's theatres and caps it all off with an amazingly small fourth weekend drop of just 40%, a $9.3 million weekend and most importantly its passing of the $200 million domestic revenue milestone.
A rare "down" weekend (after five "up" weekend s in a row!)  is not great news, but since it was by the smallest of margins against last year's "G.I. Joe" and its $54 million first weekend, the industry is still generating positive energy as we head toward one of the most competitive weekends of the summer.  Sony's "Eat Pray Love," Lionsgate's "The Expendables" and Universal's "Scott Pilgrim" go head to head this coming weekend in a box office battle royal.
Top 10 Movies – Weekend of August 6, 2010 (Actuals)
Movie Weekend Total
1. The Other Guys (PG-13)$35.5 M$35.5 M
2. Inception (PG-13)$18.5 M$227.6 M
3. Step Up 3-D (PG-13)$15.8 M$15.8 M
4. Salt (PG-13)$10.9 M$91.8 M
5. Dinner for Schmucks (PG-13)$10.4 M$46.6 M
6. Despicable Me (PG)$9.3 M$209.3 M
7. Cats & Dogs: The Revenge of Kitty Galore (PG)$6.9 M$26.4 M
8. Charlie St. Cloud (PG-13)$4.7 M$23.5 M
9. Toy Story 3 (G)$3.1 M$396.4 M
10. The Kids Are All Right (R)$2.6 M$14.0 M