'Thor' brings the hammer down at the Box Office!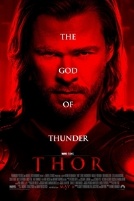 The summer movie season has officially kicked off with the $66 million debut of Paramount's Thor in 3-D from Marvel Comics.  The first weekend in May is a traditionally strong release date and it was no surprise that a superhero movie landed at the top of the box office.  Newcomer Chris Hemsworth plays the title character and joins a terrific cast including Academy Award winners Natalie Portman and Anthony Hopkins.  Thor earned $6.6 million or 10% of the weekend total on 213 IMAX digital screens.  This proves that whether in 2-D like Fast Five or 3-D for Thor, IMAX is the first choice of fanboys when it comes to seeing their favorite blockbusters.
Check out our exclusive 'Thor'-themed comic strip from Francesco Marciuliano.  Francesco writes the internationally-syndicated comic strip "Sally Forth" and the webcomic "Medium Large." He was the head writer for the PBS series "SeeMore's Playhouse," for which one of his episodes won two 2007 Daytime Emmys. He currently writes for the Onion News Network.

Universal's Fast Five took second place with $32.5 million and a North American total to date of nearly $140 million in the wake of a massive $86.2 million debut last weekend.  The 5th installment of the franchise demonstrated incredible mid-week staying power with daily grosses in the $4 million to $6 million range.  An opening weekend that came in well above expectations, great word-of-mouth, critical raves and a picture perfect marketing campaign has made Fast Five one of the biggest hit of the year so far.
Sony offered a solid dose of comedic fun with the ensemble comedy Jumping the Broom which should drew a solid Mother's Day crowd with a better-than-expected $13.7 million 3rd place debut.  Angela Bassett leads an impressive cast in a story of two very different families descending on Martha's Vineyard for a wedding.  Along with Something Borrowed, Broom swept up audiences looking for something on the lighter side this weekend.
In 4th place with $13.1 million Warner Bros.' Something Borrowed was a perfect counter-programming alternative to all the testosterone-driven fare in the marketplace.  This female-driven film stars Kate Hudson and Ginnifer Goodwin as best friends in love the same guy.
Rounding out the top 5 with $8.2 million and a domestic total to date of $114.9 million is Fox's Rio which has been one of the biggest hits of the pre-summer period and flew past the $100 million mark last weekend.  Kids and families around the globe have made this their favorite film for weeks and this weekend should add to the angry birds' success.
No surprise that we had a "down" weekend since the same weekend one year ago, Paramount's Iron Man 2 nailed a $128.1 million debut that would become the highest grossing opening weekend of 2010.
Weekend Box-Office Estimates
Top Movies – For Mother's Day Weekend of May 6, 2011
    Movie     Weekend Gross     Total to Date
1     Thor (PG-13)     $66.0M     $66.0M
2     Fast Five (PG-13)     $32.5M     $139.8M
3     Jumping the Broom (PG-13)     $13.7M     $13.7M
4     Something Borrowed (PG-13)     $13.1M     $13.1M
5     Rio (G)     $8.2M     $114.9M