Tomas Alfredson To Direct Fantasy Adventure 'Larklight'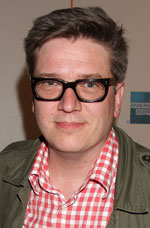 It's a good time to be a foreign filmmaker in Tinsel Town. While the Steven Spielbergs and Ridley Scotts of the world are busy developing their own films, Hollywood has begun looking at international talent to take on its most treasured unassigned projects. Critically acclaimed worldwide hits like Bronson and The Girl With The Dragon Tattoo have provided their respective helmers – Nicolas Winding Refn and Niels Arden Oplev – with the opportunity to take on glitzier Hollywood films like Drive (for Winding Refn) and Good People and The Last Photograph (both which Oplev is attached to).
Today, Heat Vision reports that Tomas Alfredson, the Swedish director of Let The Right One In, has picked up another big project. The lauded filmmaker will work on Larklight, an adaptation of a 2006 fantasy book by Philip Reeve. Set in an alternative Victoria-era universe in which mankind has been exploring the solar system since the time of Isaac Newton, the story centers on a brother and sister who team with a band of renegade space pirates to save the world from destruction at the hands of a madman. Though that premise does sounds a bit like the events that transpired a long time ago in a galaxy far, far away, Victorian production design, dialogue and sensibilities will separate the project from that beloved film universe.  I'm all for science-fiction and fantasy films and this sounds like a comfortable combination of both, so I'm anxious to hear what else the narrative will entail.
Alfredson is currently filming the espionage thriller Tinker, Tailor, Soldier, Spy with an stellar international cast, but will move into production on the Steve Knight (Eastern Promises) scripted Larklight, to which Shekhar Kapur was previously attached as director, afterward. Di Novi Pictures' Denise Di Novi is producing, and Alison Greenspan is exec producing.
Source: Heat Vision