Call us jaded, but whenever we hear of the latest charge of mistreatment to models by a designer, casting director, or editor, we just don't get surprised. To be fair, the modeling world isn't exactly known for its rigid morals — this is, after all, the same industry that routinely employs underage models for high-profile shows, among many other horrors (you need only look at the closeups of the Louis Vuitton Spring/Summer 13 show to see what we mean). However, with Naomi Campbell recently calling out the fashion world as becoming more racist than it was in the mid-80s, we had to take a step back.
According to research compiled by Jezebel, this past New York Fashion Week had a total of 4,637 individual looks, and nearly 80% of those looks were modeled by — you guessed it — white models. Out of the roughly 20% modeled by non-white models, 8.1% were modeled by Asian models, 8.08% by black models, and 3.19% by Latinas. Other races were barely seen. Brands such as Marchesa, Sass & Bide, Theyskens' Theory, Band of Outsiders, Lacoste, Jen Kao, and Lacoste, featured three looks or less by models of color.
Nearly 80% of NYFW looks were shown on white models
It's easy to play the "race blame game" in fashion — Campbell herself points the finger to casting agents that only want to hire white models, while Dunn claims that non-white models "are only cast when it's hot for one season and everyone jumps on board". It is, however, much more complicated than the prejudiced views of a group of influential people.
Racism in fashion is institutionalized. It has become ingrained into the industry and society that surrounds it to the point that it becomes unconsciously routine. Pointing fingers is easy, but creating change is a whole other game that few want to be the frontrunner of.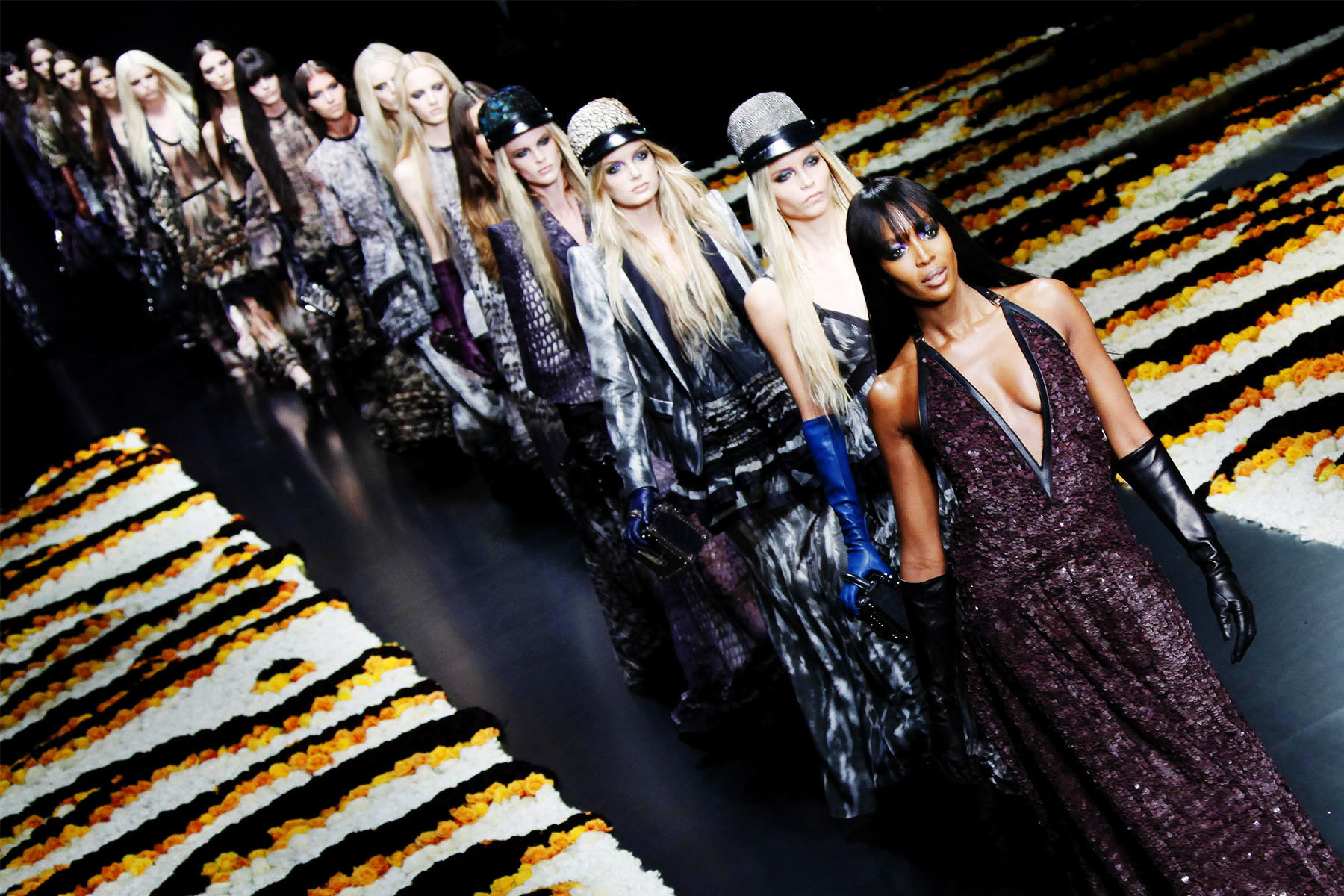 Splash News
That's not to say that there hasn't been a spark. The number of non-white models has jumped from last season, from 17.3% to 20.02%. Recent hires show a change in editorial as well — Elaine Welteroth, Eva Chen, and multiple others have taken the rein at publications, which could hopefully mean a shift in content to a more diverse note.
A shift in content to a more diverse note
Additionally, the runway doesn't seem to translate to the page. Estée Lauder's 2011 skincare campaign featured models Hilary Rhoda, Constance Jablonski, Joan Smalls, and Liu Wen, all under the tagline "Every woman can be beautiful". The Karl Lagerfeld-shot Chanel Fall 2013 ads also spotlight Asian models — Soo Joo Park and Chiharu Okunugi. This Fall, Malaika Firth also became the first black model used in a campaign by Prada in over 19 years.
The change is infectious. The movement in numbers, as well as the ever-growing pool of sartorial leaders will hopefully bring about a much-needed change to an industry that's very late to catch on. 
Time to face the camera.